HBL PSL 2017 – 10th Match: Karachi Kings vs Islamabad United
Highlights
Photo Gallery
Match Report
HBL PSL 2017 – 10th Match: Karachi Kings vs Islamabad United
Islamabad United (90 for 8 in 13 overs)
Karachi Kings (75 for 4 in 9.4 overs)
SHARJAH February 18: Karachi Kings earned their first points of the HBL Pakistan Super League (PSL) 2017 edition as they edged out Islamabad United in a rain marred clash at the Sharjah Cricket Stadium.
Kings were placed at 75 for four after 9.4 overs when rain returned to halt the game one last time; they were eight runs ahead of the required score at that stage of their innings as per the Duckworth-Lewis D/L method.
Man-of-the-match Babar Azam was the star for Kings scoring an unbeaten 47 off only 30 balls, his innings included two sixes and five fours, Mohammad Irfan bowled a hostile opening spell and returned figures of two wickets for only seven runs off his three overs.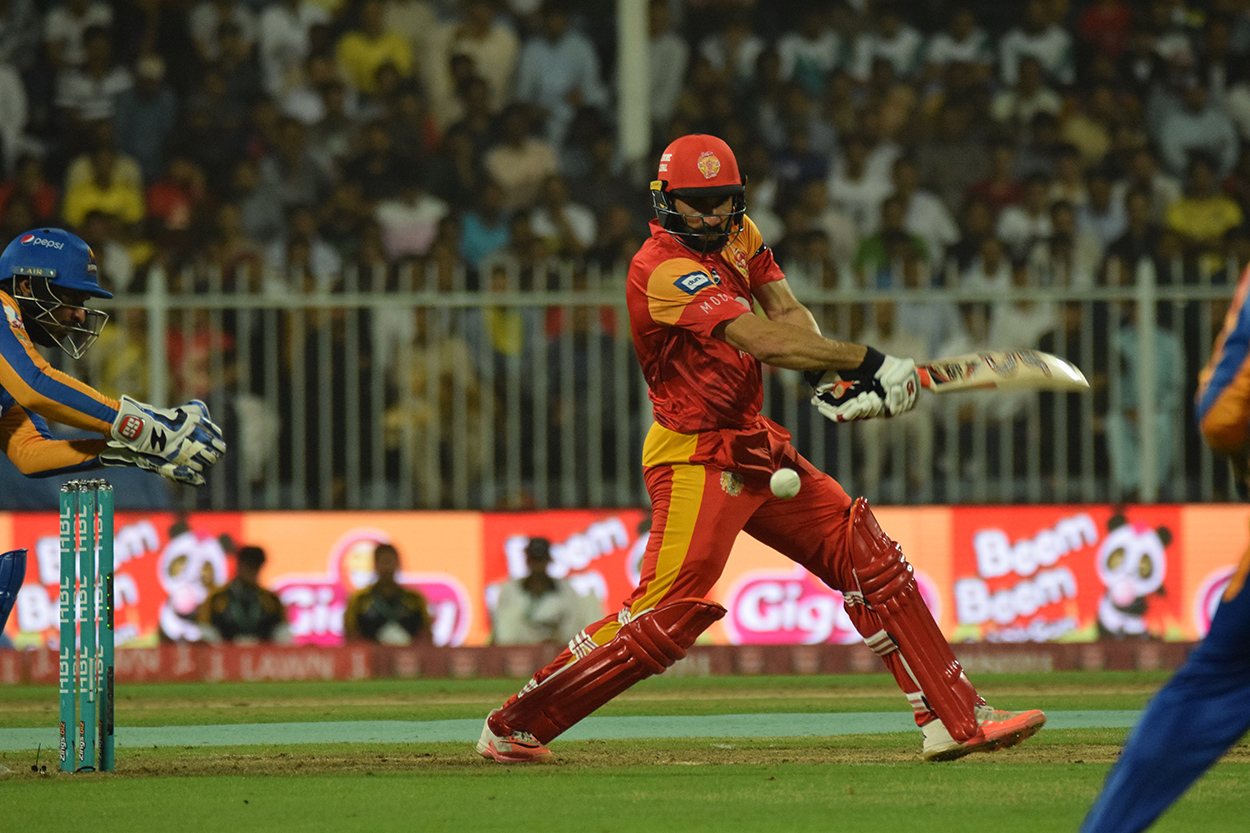 Earlier, United's innings was reduced to 13 overs after a series of rain stoppages. Islamabad's batsmen struggled to cope with the demanding conditions and kept losing wickets in their pursuit of quick runs. Overseas pair of Dwayne Smith (29) and Shane Watson (26) made valuable contributions to the eventual tally of 90 runs. Smith struck three sixes including one off Kashif Bhatti that cleared the stadium, Watson struck two sixes off Mohammad Amir in the penultimate over of the innings.
The final over was a tale of woes for United as three batsmen were run out while speedster Usman Shinwari took the wicket of Asif Ali who was smartly caught by Sangakkara behind the stumps.
Kings target was revised to 95 as per the Duckworth Lewis D/L method.
Scorecard
10th Match: Karachi Kings vs Islamabad United | Karachi Kings won by 8 runs (DLS method)
Match Details
| | | | |
| --- | --- | --- | --- |
| Toss | Karachi Kings, who chose to field | Tournament | HBL Pakistan Super League 2017 |
| Umpires | Aleem Dar (Pakistan) and Richard Illingworth (England) | Match Date | 17 Feb 2017 |
| Match Referee | RS Mahanama | Ground | Sharjah Cricket Stadium, Sharjah |
| TV Umpire | Shozab Raza (Pakistan) | | |
| Player of Match | Babar Azam (Karachi Kings) | | |
Islamabad United Innings

R
M
B
4s
6s
1

Dwayne Smith

c Kumar Sangakkara b Usama Mir
29
0
22
0
3
2

Sam Billings

lbw Imad Wasim
0
0
1
0
0
3

Brad Haddin †

c & b Imad Wasim
6
0
10
1
0
4

Misbah ul Haq *

c Babar Azam b Usama Mir
16
0
25
0
1
5

Shane Watson

run out Kieron Pollard
26
0
14
2
2
6

Imran Khalid

run out Shoaib Malik
1
0
1
0
0
7

Asif Ali

c Kumar Sangakkara b Usman Khan Shinwari
5
0
3
1
0
8

Mohammad Sami

run out Kieron Pollard
1
0
1
0
0
9

Shadab Khan

not out
1
0
1
0
0
10

Saeed Ajmal

Did not bat
11

Mohammad Irfan

Did not bat
Extra
lb 1, w 4
5
Total
8 wickets; 13.0 overs; 0 mins
90
6.92 runs per over
Fall of wickets
1-1 ( Sam Billings, 0.2 ) ;
2-10 ( Brad Haddin, 3.0 ) ;
3-49 ( Dwayne Smith, 8.3 ) ;
4-59 ( Misbah ul Haq , 10.2 ) ;
5-83 ( Shane Watson, 12.1 ) ;
6-88 ( Imran Khalid, 12.3 ) ;
7-88 ( Asif Ali, 12.4 ) ;
8-90 ( Mohammad Sami, 13.0 )
| Bowling | Overs | Maidens | Runs | Wickets | Wides | No balls |
| --- | --- | --- | --- | --- | --- | --- |
| Imad Wasim | 3.0 | 0 | 15 | 2 | 0 | 0 |
| Mohammad Aamer | 3.0 | 0 | 28 | 0 | 4 | 0 |
| Usman Khan Shinwari | 2.0 | 0 | 12 | 1 | 0 | 0 |
| Kashif Bhatti | 2.0 | 0 | 24 | 0 | 0 | 0 |
| Usama Mir | 3.0 | 0 | 10 | 2 | 0 | 0 |
Karachi Kings Innings

R
M
B
4s
6s
1

Chris Gayle

c Mohammad Sami b Mohammad Irfan
2
0
3
0
0
2

Babar Azam

not out
47
0
30
5
2
3

Kumar Sangakkara * †

b Mohammad Irfan
2
0
3
0
0
4

Shoaib Malik

c Saeed Ajmal b Imran Khalid
6
0
9
0
0
5

Ravi Bopara

run out Shadab Khan
1
0
5
0
0
6

Imad Wasim

not out
8
0
9
0
0
7

Mohammad Aamer

Did not bat
8

Kashif Bhatti

Did not bat
9

Usman Khan Shinwari

Did not bat
10

Kieron Pollard

Did not bat
11

Usama Mir

Did not bat
Extra
lb 7, w 1, nb 1
9
Total
4 wickets; 9.4 overs;
75
7.76 runs per over
Fall of wickets
1-2 ( Chris Gayle, 0.3 ) ;
2-20 ( Kumar Sangakkara, 2.1 ) ;
3-49 ( Shoaib Malik, 5.3 ) ;
4-54 ( Ravi Bopara, 6.3 ) ;
| Bowling | Overs | Maidens | Runs | Wickets | Wides | No balls |
| --- | --- | --- | --- | --- | --- | --- |
| Mohammad Irfan | 3.0 | 0 | 7 | 2 | 0 | 0 |
| Mohammad Sami | 1.0 | 0 | 18 | 0 | 0 | 1 |
| Imran Khalid | 2.0 | 0 | 10 | 1 | 0 | 0 |
| Shadab Khan | 1.0 | 0 | 14 | 0 | 0 | 0 |
| Saeed Ajmal | 1.4 | 0 | 10 | 0 | 1 | 0 |
| Shane Watson | 1.0 | 0 | 9 | 0 | 0 | 0 |
Match Notes
Islamabad United Inning
Match stopped due to rain : Islamabad United – 34/2 in 7.1 overs
(Misbah ul Haq 5
, Dwayne Smith 22)
Match stopped due to rain : Islamabad United – 34/2 in 7.1 overs
(Misbah ul Haq 5
, Dwayne Smith 22)
Islamabad United : 50 runs in 8.5 overs (53 balls), Extras 1
Innings Break : Islamabad United – 90/8 in 13.0 overs
(Shadab Khan 1
Karachi Kings Inning
Karachi Kings : 50 runs in 5.5 overs (35 balls), Extras 4
5th Wicket : 50 runs in 16 balls
(Imad Wasim 7
, Babar Azam 8
, Ex 1)
Match stopped due to rain : Karachi Kings – 75/4 in 9.4 overs
(Imad Wasim 8
, Babar Azam 47)