HBL PSL 2017 – 11th Match: Lahore Qalandars vs Quetta Gladiators
Highlights
Photo Gallery
Match Report
HBL PSL 2017 – 11th Match: Lahore Qalandars vs Quetta Gladiators
(Qalandars 200 for 3 in 20 overs)
(Gladiators 202 for 5 in 18.5 overs)
SHARJAH February 18: An incredible 42 ball 88 run unbeaten innings by Kevin Pietersen helped Quetta Gladiators pull off a stunning win over Lahore Qalandars at the Sharjah Cricket Stadium.
Set to chase 201 on a placid batting friendly pitch despite the wet conditions in the region prior to the match the Gladiators owed their chase to a whirlwind innings by their most seasoned campaigner Pietersen who anchored one end before unleashing a brutal assault in the dying moments of the game as the Gladiators scored their last 63 runs off only 17 balls.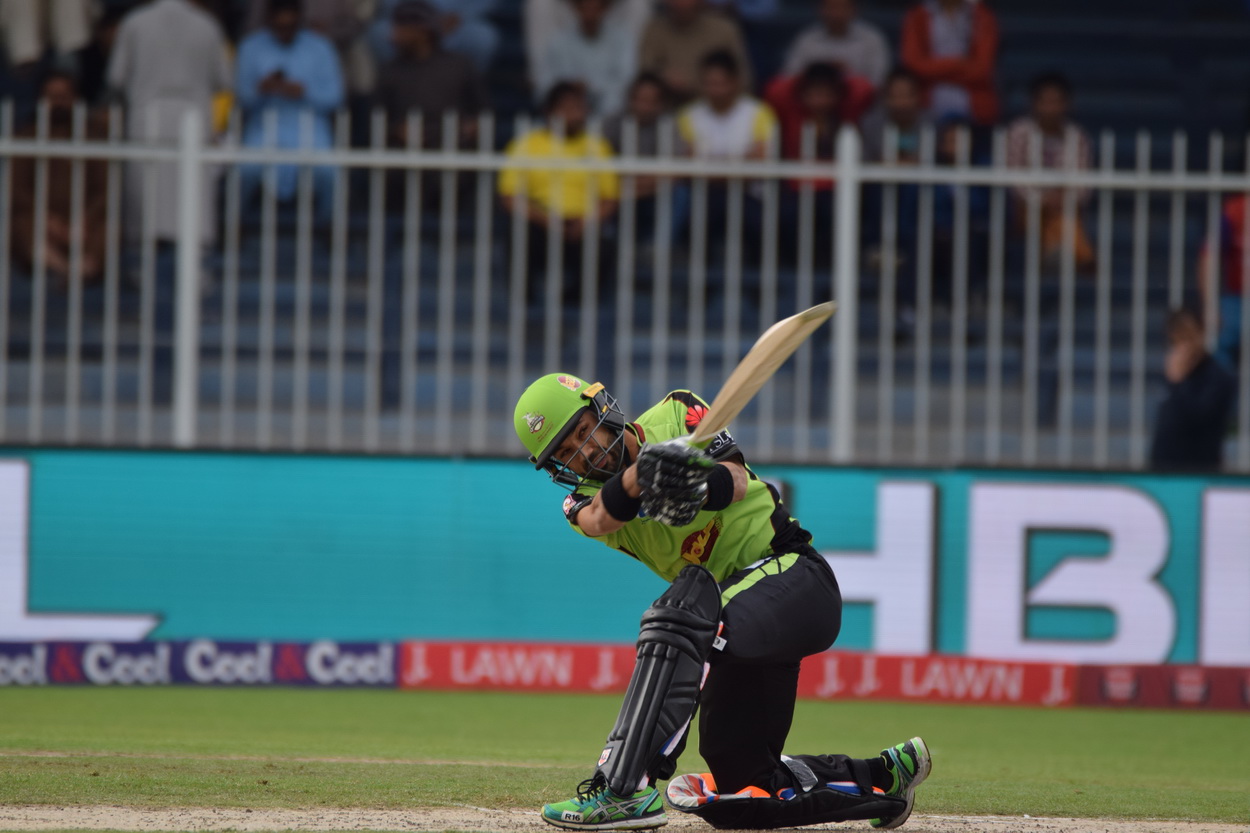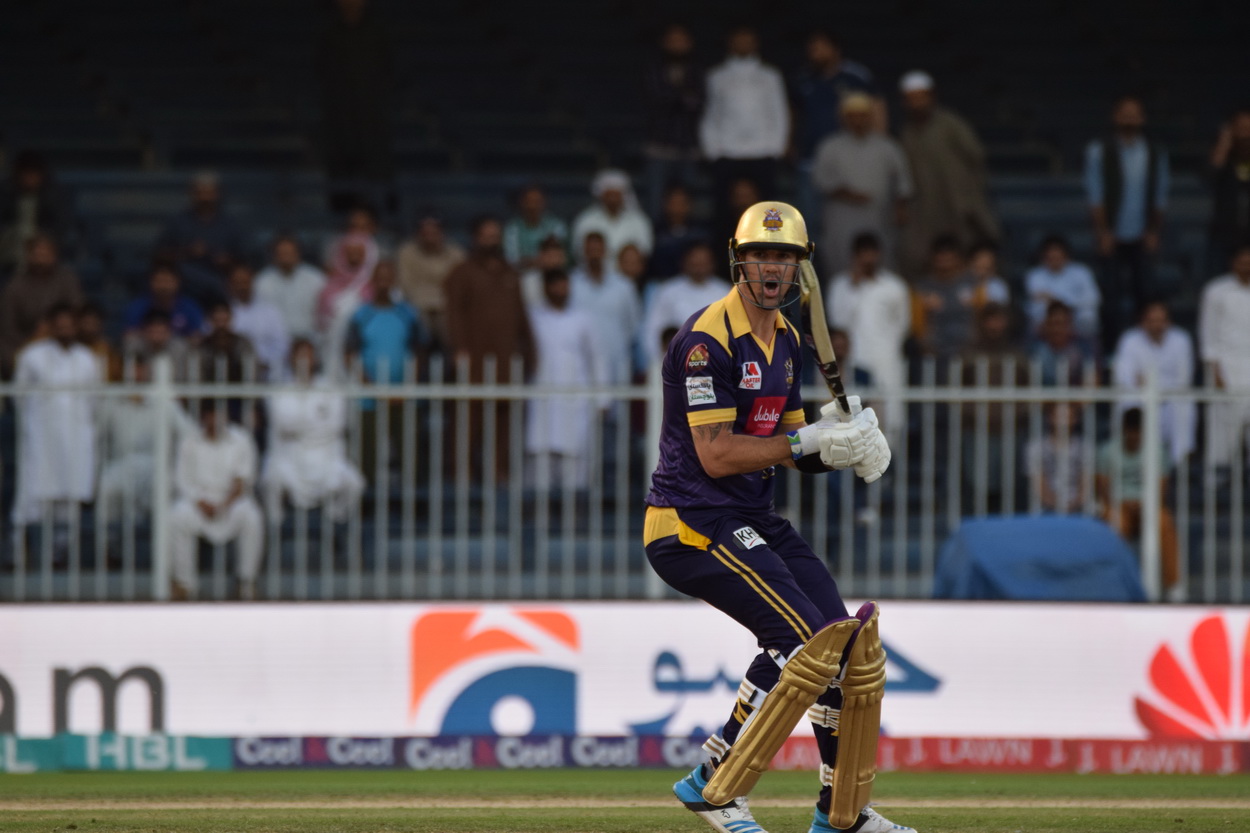 Pietersen and captain Sarfraz Ahmed (45) tore into Sunil Narine and rookie pacer Mohammad Irfan Junior in the 17th and 18th over of the innings before Sohail Tanvir conceded 15 runs from the first five balls of the 19th over despite dismissing Sarfraz to trigger wild celebrations in the Gladiators camp.
Narine was hit for three sixes in his over while Irfan was hit for four maximums in his over by Pietersen. The Gladiators number three made up for his poor run in the lead-up to the game with a memorable performance that also earned him the man-of-the-match award.
Qalandars had also failed a 200 plus score in their game against the Gladiators in the 2016 season at the Dubai International Cricket Stadium.
Batting first, the Qalandars produced a batting master class of their own as their frontline batsmen went after the Gladiators attack from the outset. Opener Jason Roy set the tone of his team's innings with a 27 ball 51 run innings that included three sixes and six fours. He was dismissed after a 77 run opening stand with Fakhar Zaman in a mere 6.4 overs.
Fakhar scored 47 off 31 balls and took over the attack after Roy was sent back, Umar Akmal (17) perished early while Fakhar was dismissed courtesy a fine diving catch by Ahmed Shehzad.
Mohammad Rizwan and Cameron Delport made full use of the platform that was provided by the earlier batsmen with a scintillating 77 run unbroken stand for the fourth wicket to ensure that the Qalandars post the first 200 run score of the current edition.
Rizwan's innings of 46 included four sixes and a solitary four while Delport scored 35 off 21 balls, his innings was studded with three sixes and one four.
Gladiators' bowlers had a forgettable afternoon with Mohammad Nawaz conceding 44 in his three overs while Anwar Ali went for 37 off his three overs.
Scorecard
11th Match: Lahore Qalandars vs Quetta Gladiators | Quetta Gladiators won by 5 wickets
Match Details
| | | | |
| --- | --- | --- | --- |
| Toss | Quetta Gladiators, who chose to field | Tournament | HBL Pakistan Super League 2017 |
| Umpires | Shozab Raza (Pakistan) and Rashid Riaz (Pakistan) | Match Date | 18 Feb 2017 |
| Match Referee | RS Mahanama | Ground | Sharjah Cricket Stadium, Sharjah |
| TV Umpire | Ahmed Shahab | | |
| Player of Match | Kevin Pietersen (Quetta Gladiators) | | |
Lahore Qalandars Innings

R
M
B
4s
6s
1

Jason Roy

b Hassan Khan
51
0
27
6
3
2

Fakhar Zaman

c Ahmed Shehzad b Zulfiqar Babar
47
0
31
6
1
3

Umar Akmal

c Mahmudullah b Hassan Khan
17
0
14
1
1
4

Mohammad Rizwan †

not out
46
0
28
1
4
5

Cameron Delport

not out
35
0
21
1
3
6

Brendon McCullum *

Did not bat
0
0
0
0
0
7

Sohail Tanvir

Did not bat
0
0
0
0
0
8

Sunil Narine

Did not bat
0
0
0
0
0
9

Yasir Shah

Did not bat
0
0
0
0
0
10

Bilawal Bhatti

Did not bat
0
0
0
0
0
11

Mohammad Irfan Jr

Did not bat
0
0
0
0
0
Extra
lb 3, nb 1
4
Total
3 wickets; 20.0 overs; 0 mins
200
10 runs per over
Fall of wickets
1-77 ( Jason Roy, 6.4 ) ;
2-107 ( Umar Akmal, 10.4 ) ;
3-123 ( Fakhar Zaman, 13.1 ) ;
| Bowling | Overs | Maidens | Runs | Wickets | Wides | No balls |
| --- | --- | --- | --- | --- | --- | --- |
| Zulfiqar Babar | 4.0 | 0 | 28 | 1 | 0 | 0 |
| Anwar Ali | 3.0 | 0 | 37 | 0 | 0 | 1 |
| Thisara Perera | 4.0 | 0 | 37 | 0 | 0 | 0 |
| Mohammad Nawaz | 3.0 | 0 | 44 | 0 | 0 | 0 |
| Hassan Khan | 4.0 | 0 | 28 | 2 | 0 | 0 |
| Mahmudullah | 2.0 | 0 | 23 | 0 | 0 | 0 |
Quetta Gladiators Innings

R
M
B
4s
6s
1

Ahmed Shehzad

b Mohammad Irfan Jr
15
0
15
2
0
2

Saad Nasim

c Mohammad Rizwan b Sohail Tanvir
5
0
6
0
0
3

Kevin Pietersen

not out
88
0
42
3
8
4

Rilee Rossouw

c Bilawal Bhatti b Mohammad Irfan Jr
33
0
18
3
2
5

Thisara Perera

c Aamer Yamin b Cameron Delport
1
0
5
0
0
6

Sarfraz Ahmed * †

c Mohammad Rizwan b Sohail Tanvir
45
0
25
3
3
7

Anwar Ali

not out
12
0
3
1
1
8

Hassan Khan

Did not bat
9

Mohammad Nawaz

Did not bat
10

Zulfiqar Babar

Did not bat
11

Mahmudullah

Did not bat
Extra
lb 1, w 1, nb 1
3
Total
5 wickets; 18.5 overs;
202
10.73 runs per over
Fall of wickets
1-13 ( Saad Nasim, 2.2 ) ;
2-24 ( Ahmed Shehzad, 4.2 ) ;
3-81 ( Rilee Rossouw, 9.2 ) ;
4-89 ( Thisara Perera, 10.5 ) ;
5-190 ( Sarfraz Ahmed, 18.2 ) ;
| Bowling | Overs | Maidens | Runs | Wickets | Wides | No balls |
| --- | --- | --- | --- | --- | --- | --- |
| Sohail Tanvir | 3.5 | 0 | 47 | 2 | 1 | 0 |
| Sunil Narine | 4.0 | 0 | 38 | 0 | 0 | 0 |
| Mohammad Irfan Jr | 4.0 | 0 | 48 | 2 | 0 | 1 |
| Bilawal Bhatti | 1.1 | 0 | 19 | 0 | 0 | 0 |
| Yasir Shah | 4.0 | 0 | 31 | 0 | 0 | 0 |
| Cameron Delport | 1.5 | 0 | 18 | 1 | 0 | 0 |
Match Notes
Lahore Qalandars Inning
Lahore Qalandars : 50 runs in 4.1 overs (25 balls), Extras 3
1st Wicket : 50 runs in 27 balls
(Fakhar Zaman 33
, Jason Roy 17
, Ex 3)
Jason Roy : 50 off 24 balls
(
6 x 4 3 x 6 )
Lahore Qalandars : 100 runs in 9.0 overs (54 balls), Extras 3
Lahore Qalandars : 150 runs in 16.1 overs (97 balls), Extras 3
Lahore Qalandars : 200 runs in 20.0 overs (120 balls), Extras 4
Innings Break : Lahore Qalandars – 200/3 in 20.0 overs
(Mohammad Rizwan 46
, Cameron Delport 35)
Quetta Gladiators Inning
Quetta Gladiators : 50 runs in 6.0 overs (36 balls), Extras 2
3rd Wicket : 50 runs in 26 balls
(Kevin Pietersen 27
, Rilee Rossouw 21
, Ex 1)
Quetta Gladiators : 100 runs in 12.4 overs (76 balls), Extras 2
Kevin Pietersen : 50 off 34 balls
(
3 x 4 3 x 6 )
Quetta Gladiators : 150 runs in 16.2 overs (98 balls), Extras 3
5th Wicket : 100 runs in 35 balls
(Sarfraz Ahmed 39
, Kevin Pietersen 29
, Ex 1)
Quetta Gladiators : 200 runs in 18.5 overs (113 balls), Extras 3