HBL PSL 2017 – 16th Match: Lahore Qalandars vs Peshawar Zalmi
Highlights
Photo Gallery
Match Report
HBL PSL 2017 – 16th Match: Lahore Qalandars vs Peshawar Zalmi
 (Zalmi 166 for 6 in 20 overs)
(Qalandars 149 for 9 in 20 overs)
DUBAI February 24: A sensational collapse which saw Lahore Qalandars lose six wickets for the addition of five runs propelled Peshawar Zalmi to a comfortable 17 run win and a place in the HBL Pakistan Super League (PSL) play-offs.
Set a target of 167, Qalandars plummeted from 38 for no loss to 43 for six in a space of 17 balls as the Zalmi slow bowlers derailed the opponents' batting line-up in a stunning bowling display.
Cameron Delport had hit seven fours in his 15 ball 32 run innings before he was dismissed by Hassan Ali, Mohammad Hafeez and Shakibal Hasan than combined to run through the Qalandars middle-order in a blink of an eye.
Sunil Narine (21), Aamer Yamin (25) Sohail Tanvir (36)* and Yasir Shah (22) saved the team's blushes and took them closer to the target, however Zalmi were rarely tested after removing the top six.
Man-of-the-match Shakib took two wickets; Hafeez also claimed two while Hassan, Wahab and Shahid Afridi took a wicket each.
Zalmi now have seven points from as many games, Qalandars need to beat Karachi Kings in their final match to ensure qualification for the play-offs they are currently on six points from seven games.
Earlier Sammy opted to bat first after winning the toss. Zalmi lost Tamim Iqbal (5) in the second over of the innings, fellow opener Kamran Akmal (58) launched a counterattack and played some delightful shots especially on the off-side to increase the scoring tempo. Kamran was eventually dismissed by Shah; his 40 ball innings included nine fours.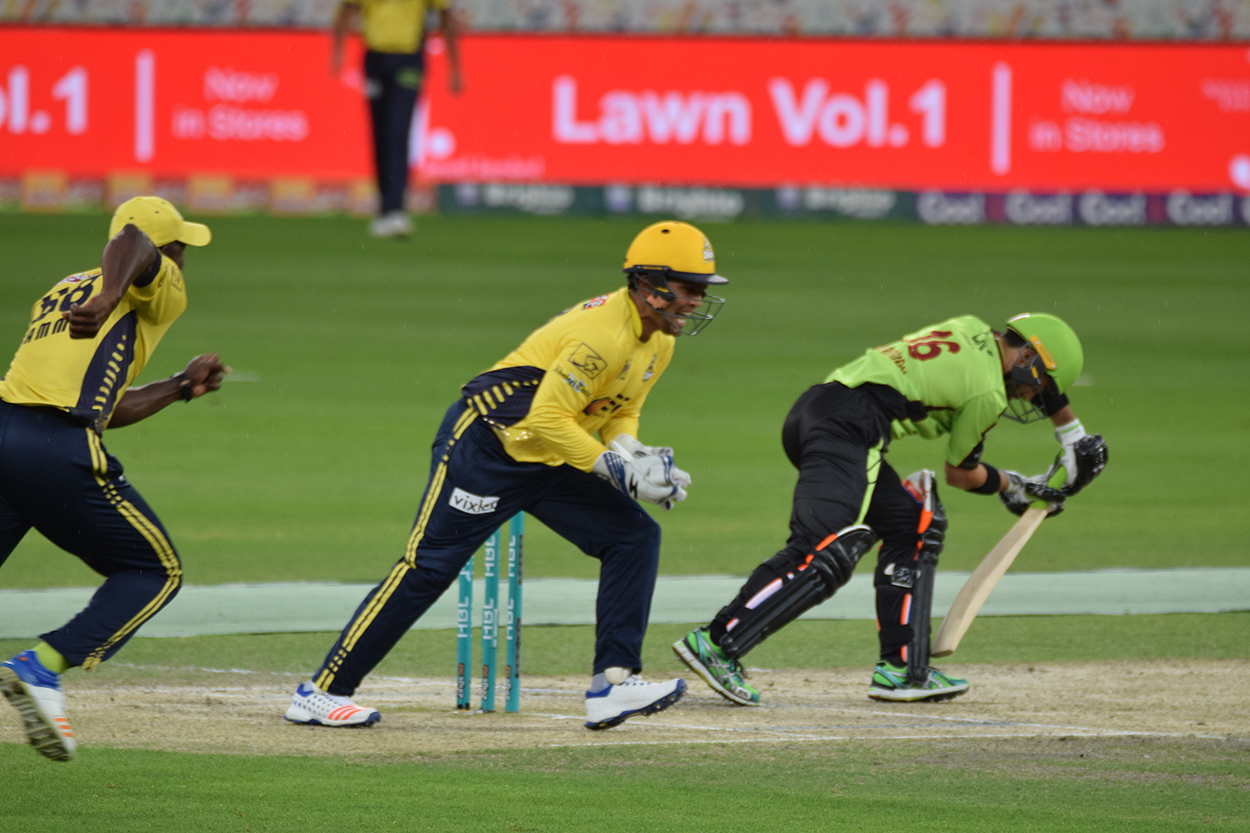 Marlon Samuels who made his Zalmi debut today struggled to get the ball away in his 21 ball 17 run innings, he was bowled by Narine.
Shakibal (30), Afridi (10) and Sammy 17* made valuable contributions as Zalmi posted a competitive 166 run total. Shah with figures of two for 19 from his four overs was the pick of the Qalandars attack.
Scorecard
16th Match: Lahore Qalandars vs Peshawar Zalmi | Peshawar Zalmi won by 17 runs
Match Details
| | | | |
| --- | --- | --- | --- |
| Toss | Peshawar Zalmi, who chose to bat | Tournament | HBL Pakistan Super League 2017 |
| Umpires | REJ Martinesz and Shozab Raza (Pakistan) | Match Date | 24 Feb 2017 |
| Match Referee | RS Mahanama | Ground | Dubai International Cricket Stadium, Dubai |
| TV Umpire | Ahmed Shahab | | |
| Player of Match | Shakib Al Hasan (Peshawar Zalmi) | | |
Peshawar Zalmi Innings

R
M
B
4s
6s
1

Tamim Iqbal

c & b Aamer Yamin
5
0
3
1
0
2

Kamran Akmal †

st Mohammad Rizwan b Yasir Shah
58
0
40
9
0
3

Mohammad Hafeez

b Yasir Shah
13
0
18
2
0
4

Marlon Samuels

b Sunil Narine
17
0
21
0
0
5

Shakib Al Hasan

c Umar Akmal b Sohail Tanvir
30
0
24
2
1
6

Shahid Afridi

run out Ghulam Mudassar
10
0
6
1
0
7

Darren Sammy *

not out
17
0
8
1
1
8

Wahab Riaz

not out
0
0
0
0
0
9

Mohammad Asghar

Did not bat
10

Sohaib Maqsood

Did not bat
11

Hasan Ali

Did not bat
Extra
b 8, lb 1, w 7
16
Total
6 wickets; 20.0 overs; 0 mins
166
8.3 runs per over
Fall of wickets
1-2 ( Tamim Iqbal, 1.1 ) ;
2-55 ( Mohammad Hafeez, 7.5 ) ;
3-90 ( Kamran Akmal, 12.0 ) ;
4-127 ( Marlon Samuels, 16.2 ) ;
5-142 ( Shahid Afridi, 18.2 ) ;
6-145 ( Shakib Al Hasan, 19.1 ) ;
| Bowling | Overs | Maidens | Runs | Wickets | Wides | No balls |
| --- | --- | --- | --- | --- | --- | --- |
| Sohail Tanvir | 4.0 | 0 | 39 | 1 | 0 | 0 |
| Aamer Yamin | 4.0 | 0 | 28 | 1 | 2 | 0 |
| Sunil Narine | 4.0 | 0 | 28 | 1 | 1 | 0 |
| Ghulam Mudassar | 2.0 | 0 | 23 | 0 | 0 | 0 |
| Yasir Shah | 4.0 | 0 | 19 | 2 | 0 | 0 |
| Grant Elliott | 2.0 | 0 | 20 | 0 | 0 | 0 |
Lahore Qalandars Innings

R
M
B
4s
6s
1

Cameron Delport

c & b Hasan Ali
32
0
15
7
0
2

Brendon McCullum *

run out Mohammad Asghar
6
0
3
1
0
3

Fakhar Zaman

c Wahab Riaz b Mohammad Hafeez
0
0
2
0
0
4

Umar Akmal

lbw Shakib Al Hasan
1
0
5
0
0
5

Mohammad Rizwan †

c Kamran Akmal b Mohammad Hafeez
4
0
4
1
0
6

Grant Elliott

lbw Shakib Al Hasan
0
0
3
0
0
7

Sunil Narine

c Mohammad Asghar b Wahab Riaz
21
0
14
2
1
8

Aamer Yamin

c Mohammad Hafeez b Darren Sammy
25
0
25
2
2
9

Sohail Tanvir

not out
36
0
29
2
2
10

Yasir Shah

st Kamran Akmal b Shahid Afridi
22
0
19
2
1
11

Ghulam Mudassar

not out
1
0
1
0
0
Extra
w 1
1
Total
9 wickets; 20.0 overs;
149
7.45 runs per over
Fall of wickets
1-38 ( Cameron Delport, 3.0 ) ;
2-38 ( Fakhar Zaman, 3.2 ) ;
3-38 ( Brendon McCullum, 3.4 ) ;
4-39 ( Umar Akmal, 4.1 ) ;
5-39 ( Grant Elliott, 4.4 ) ;
6-43 ( Mohammad Rizwan, 5.4 ) ;
7-88 ( Sunil Narine, 10.4 ) ;
8-92 ( Aamer Yamin, 12.1 ) ;
9-147 ( Yasir Shah, 19.3 ) ;
| Bowling | Overs | Maidens | Runs | Wickets | Wides | No balls |
| --- | --- | --- | --- | --- | --- | --- |
| Hasan Ali | 4.0 | 0 | 32 | 1 | 0 | 0 |
| Mohammad Asghar | 1.0 | 0 | 22 | 0 | 0 | 0 |
| Mohammad Hafeez | 3.0 | 0 | 25 | 2 | 0 | 0 |
| Shakib Al Hasan | 2.0 | 1 | 14 | 2 | 1 | 0 |
| Wahab Riaz | 4.0 | 0 | 24 | 1 | 0 | 0 |
| Shahid Afridi | 4.0 | 0 | 21 | 1 | 0 | 0 |
| Darren Sammy * | 2.0 | 0 | 11 | 1 | 0 | 0 |
Match Notes
Peshawar Zalmi Inning
Peshawar Zalmi : 50 runs in 6.0 overs (36 balls), Extras 10
3rd Wicket : 50 runs in 12 balls
(Kamran Akmal 15
, Marlon Samuels 4
, Ex 0)
Kamran Akmal : 50 off 36 balls
(
8 x 4 )
Peshawar Zalmi : 100 runs in 13.2 overs (80 balls), Extras 14
Peshawar Zalmi : 150 runs in 19.0 overs (114 balls), Extras 16
Innings Break : Peshawar Zalmi – 166/6 in 20.0 overs
(Wahab Riaz 0
, Darren Sammy 17)
Innings Break : Peshawar Zalmi – 166/6 in 20.0 overs
(Wahab Riaz 0
, Darren Sammy 17)
Lahore Qalandars Inning
Lahore Qalandars : 50 runs in 6.2 overs (38 balls), Extras 1
Lahore Qalandars : 100 runs in 13.2 overs (80 balls), Extras 1
9th Wicket : 50 runs in 40 balls
(Sohail Tanvir 32
, Yasir Shah 18
, Ex 0)