HBL PSL 2017 – 17th Match: Quetta Gladiators vs Islamabad United
Highlights
Photo Gallery
Match Report
HBL PSL 2017 – 17th Match: Quetta Gladiators vs Islamabad United
(United 165 for 6 in 20 overs)
(Gladiators 164 for 5 in 20 overs)
DUBAI February 24: A dazzling 133 run second-wicket partnership between Ahmed Shehzad and Kevin Pietersen went in vain as the Quetta Gladiators lost to Islamabad United by one run in the latest HBL Pakistan Super League (PSL) clash at the Dubai International Cricket Stadium.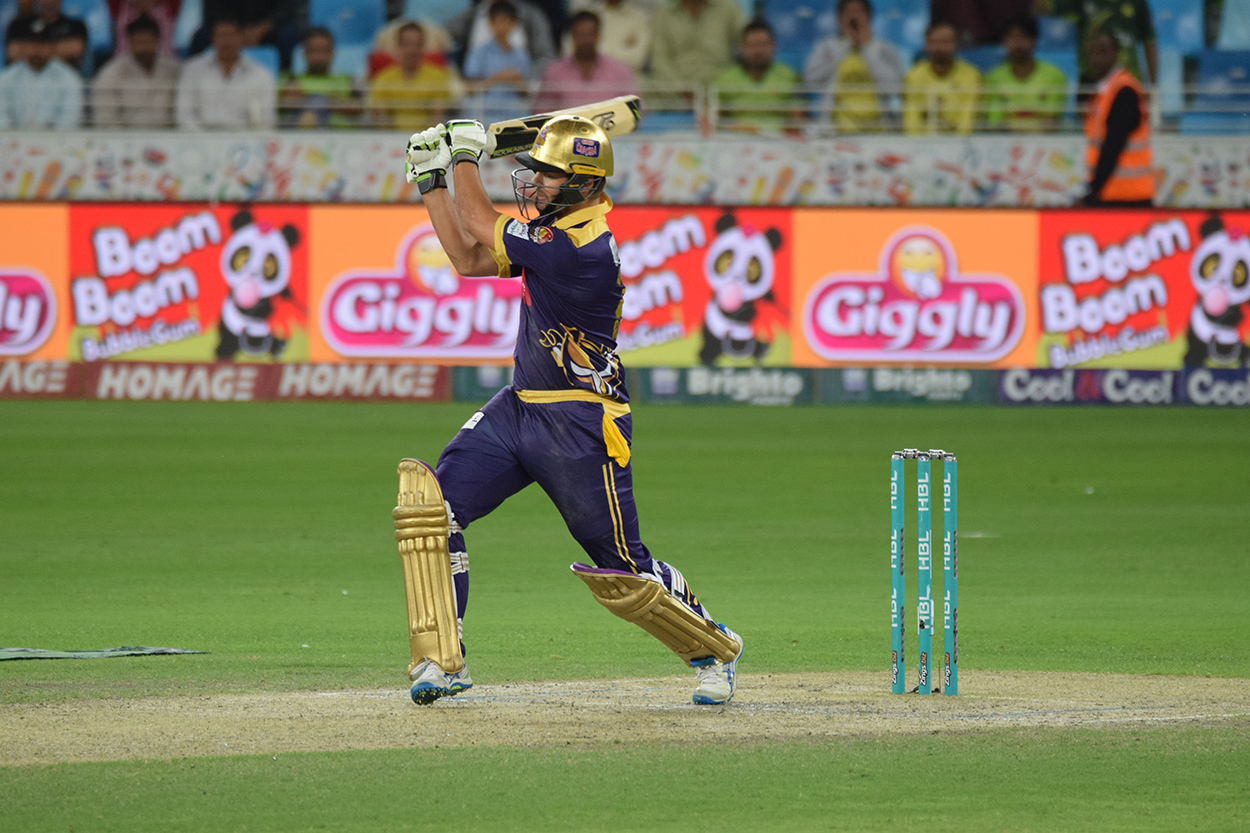 Gladiators stuttered after the Shehzad-Pietersen partnership, they needed five off the last over bowled by Mohammad Sami (Man-of-the-match), the Test fast bowler bowled a heroic last over as Anwar Ali and Rilee Rossouw kept swinging but failed to make connection.
The Gladiators collected a mere three runs in the last over as United recorded a scarcely believable win.
The win has guaranteed United a berth in the play-offs and they are now placed at number two behind Gladiators, United have eight points from seven games while Gladiators have collected nine from as many games.
The pair of Shehzad and Pietersen started their alliance with the score at 16 for one as Gladiators went about the task of building a platform for their 166 run chase after the early loss of Asad Shafiq (8).
Shehzad took the attack to the United bowlers initially before Pietersen joined in with some breathtaking shots of his own. Shehzad scored 59 off 50 balls with the help of one six and five fours while Petersen's 49 ball innings of 69 included three sixes and six fours.
Gladiators lost Pietersen and Shehzad in quick succession before Sarfraz perished for three runs. Rossouw and Anwar Ali failed to close out the game in their team's favour.  
United who were put into bat by Sarfraz Ahmed built their 165 run total around a fine 56 by young left-handed batsman Hussain Talat. The southpaw arrived at the crease after Dwayne Smith was dismissed for a duck, he struck two sixes and six fours in his 39 ball innings that gave United great momentum for a big score.
Captain Misbahul Haq (25), Brad Haddin (22) added 41 for the fourth-wicket, Haddin who was dismissed by Hassan Khan struck three fours in his 16 ball innings while Misbah hit one six in his run a ball innings, the United batting stint was given a fitting end by Shane Watson who scored a quick-fire 29 off 16 balls with the help of two sixes and as many fours.
Gladiators' all-rounder Anwar Ali gave away 51 runs in his four overs, Zulfiqar Babar bowled four miserly overs conceding a mere 18 runs and claiming two wickets.
Scorecard
17th Match: Quetta Gladiators vs Islamabad United | Islamabad United won by 1 run
Match Details
| | | | |
| --- | --- | --- | --- |
| Toss | Quetta Gladiators, who chose to field | Tournament | HBL Pakistan Super League 2017 |
| Umpires | Aleem Dar (Pakistan) and Ahsan Raza (Pakistan) | Match Date | 24 Feb 2017 |
| Match Referee | Ahmed Shahab | Ground | Dubai International Cricket Stadium, Dubai |
| TV Umpire | Rashid Riaz (Pakistan) | | |
| Player of Match | Mohammad Sami (Islamabad United) | | |
Islamabad United Innings

R
M
B
4s
6s
1

Dwayne Smith

c Mohammad Nawaz b Zulfiqar Babar
0
0
3
0
0
2

Rafatullah Mohmand

c Zulfiqar Babar b Thisara Perera
17
0
16
1
1
3

Hussain Talat

c Thisara Perera b Zulfiqar Babar
56
0
39
6
2
4

Misbah ul Haq *

c Mohammad Nawaz b Anwar Ali
25
0
25
0
1
5

Brad Haddin †

c Anwar Ali b Hassan Khan
22
0
16
3
0
6

Shane Watson

lbw Anwar Ali
29
0
16
2
2
7

Shadab Khan

not out
9
0
5
0
1
8

Mohammad Sami

Did not bat
9

Mohammad Irfan

Did not bat
10

Rumman Raees

Did not bat
11

Samuel Badree

Did not bat
Extra
lb 2, w 5
7
Total
6 wickets; 20.0 overs;
165
8.25 runs per over
Fall of wickets
1-0 ( Dwayne Smith, 0.3 ) ;
2-60 ( Rafatullah Mohmand, 8.2 ) ;
3-76 ( Hussain Talat, 10.4 ) ;
4-117 ( Brad Haddin, 15.3 ) ;
5-135 ( Misbah ul Haq , 18.0 ) ;
6-165 ( Shane Watson, 20.0 )
| Bowling | Overs | Maidens | Runs | Wickets | Wides | No balls |
| --- | --- | --- | --- | --- | --- | --- |
| Zulfiqar Babar | 4.0 | 0 | 17 | 2 | 0 | 0 |
| Mahmudullah | 2.0 | 0 | 18 | 0 | 0 | 0 |
| Mohammad Nawaz | 4.0 | 0 | 29 | 0 | 0 | 0 |
| Anwar Ali | 4.0 | 0 | 51 | 2 | 0 | 0 |
| Hassan Khan | 4.0 | 0 | 35 | 1 | 1 | 0 |
| Thisara Perera | 2.0 | 0 | 13 | 1 | 0 | 0 |
Quetta Gladiators Innings

R
M
B
4s
6s
1

Asad Shafiq

b Mohammad Irfan
8
0
9
1
0
2

Ahmed Shehzad

c Shadab Khan b Mohammad Sami
59
0
51
5
1
3

Kevin Pietersen

lbw Shadab Khan
69
0
43
6
3
4

Rilee Rossouw

not out
9
0
8
1
0
5

Sarfraz Ahmed * †

c Hussain Talat b Rumman Raees
3
0
4
0
0
6

Anwar Ali

run out Dwayne Smith
2
0
5
0
0
7

Thisara Perera

not out
0
0
0
0
0
8

Zulfiqar Babar

Did not bat
9

Mahmudullah

Did not bat
10

Hassan Khan

Did not bat
11

Mohammad Nawaz

Did not bat
Extra
b 8, lb 2, w 4
14
Total
5 wickets; 20.0 overs;
164
8.2 runs per over
Fall of wickets
1-16 ( Asad Shafiq, 2.4 ) ;
2-149 ( Kevin Pietersen, 17.0 ) ;
3-149 ( Ahmed Shehzad, 17.1 ) ;
4-159 ( Sarfraz Ahmed, 18.2 ) ;
5-163 ( Anwar Ali, 19.5 ) ;
| Bowling | Overs | Maidens | Runs | Wickets | Wides | No balls |
| --- | --- | --- | --- | --- | --- | --- |
| Mohammad Irfan | 4.0 | 0 | 23 | 1 | 1 | 0 |
| Samuel Badree | 3.0 | 0 | 34 | 0 | 0 | 0 |
| Rumman Raees | 4.0 | 0 | 26 | 1 | 1 | 0 |
| Shadab Khan | 4.0 | 0 | 28 | 1 | 0 | 0 |
| Mohammad Sami | 4.0 | 0 | 33 | 1 | 2 | 0 |
| Shane Watson | 1.0 | 0 | 10 | 0 | 0 | 0 |
Match Notes
Islamabad United Inning
Islamabad United : 50 runs in 6.2 overs (38 balls), Extras 0
2nd Wicket : 50 runs in 35 balls
(Rafatullah Mohmand 35
, Hussain Talat 16
, Ex 0)
Hussain Talat : 50 off 34 balls
(
5 x 4 2 x 6 )
Islamabad United : 100 runs in 14.1 overs (85 balls), Extras 1
Islamabad United : 150 runs in 19.1 overs (115 balls), Extras 6
Innings Break : Islamabad United – 165/6 in 20.0 overs
(Shadab Khan 9
Quetta Gladiators Inning
Quetta Gladiators : 50 runs in 7.0 overs (42 balls), Extras 3
2nd Wicket : 50 runs in 33 balls
(Kevin Pietersen 17
, Ahmed Shehzad 28
, Ex 1)
Quetta Gladiators : 100 runs in 11.2 overs (68 balls), Extras 4
Ahmed Shehzad : 50 off 39 balls
(
5 x 4 1 x 6 )
2nd Wicket : 100 runs in 66 balls
(Kevin Pietersen 48
, Ahmed Shehzad 47
, Ex 2)
Kevin Pietersen : 50 off 31 balls
(
5 x 4 3 x 6 )
Quetta Gladiators : 150 runs in 17.1 overs (103 balls), Extras 14