HBL PSL 2017 – 19th Match: Peshawar Zalmi vs Quetta Gladiators
Highlights
Photo Gallery
Match Report
HBL PSL 2017 – 19th Match: Peshawar Zalmi vs Quetta Gladiators
(Gladiators 128 all out in 20 overs)
(Zalmi 130 for 8 in 19.2 overs)         
DUBAI February 25: Peshawar Zalmi won another HBL Pakistan Super League (PSL) cliffhanger as Shahid Afridi rolled back the years to guide his team to a three-wicket win with a brilliant unbeaten innings of 45 off 23 balls against the Quetta Gladiators in the last league match for the two teams played at the Dubai International Cricket Stadium.
The win has taken Zalmi to the top of the table with nine points and a better net run rate than Quetta Gladiators even if Islamabad United win their last game and top the rankings, Zalmi will finish in the top two and get two chances of qualifying for tournament's final.
Afridi arrived at the crease after a stunning collapse had reduced Zalmi from 38 for no loss to 52 for six; he added 37 with Mohammad Hafeez (22) before Hassan Ali gave due support to Afridi with two timely boundaries in the penultimate over.
Zalmi needed seven off the last six balls; Afridi hit the first two for fours through the covers to seal a narrow win for his side.
Gladiators who were put into bat by Daren Sammy got off to a tumultuous start as Man-of-the-match Mohammad Asghar snared openers Asad Shafiq (3) and Ahmed Shehzad (0) with only four runs on the board.
The innings was brought back on track by an 86 run partnership between Kevin Pietersen (41) and Rilee Rossouw (38), the pair consumed 71 balls in their alliance. Pietersen was smartly taken by Hassan Ali while Rossouw was caught by Asghar off Shakibal Hasan.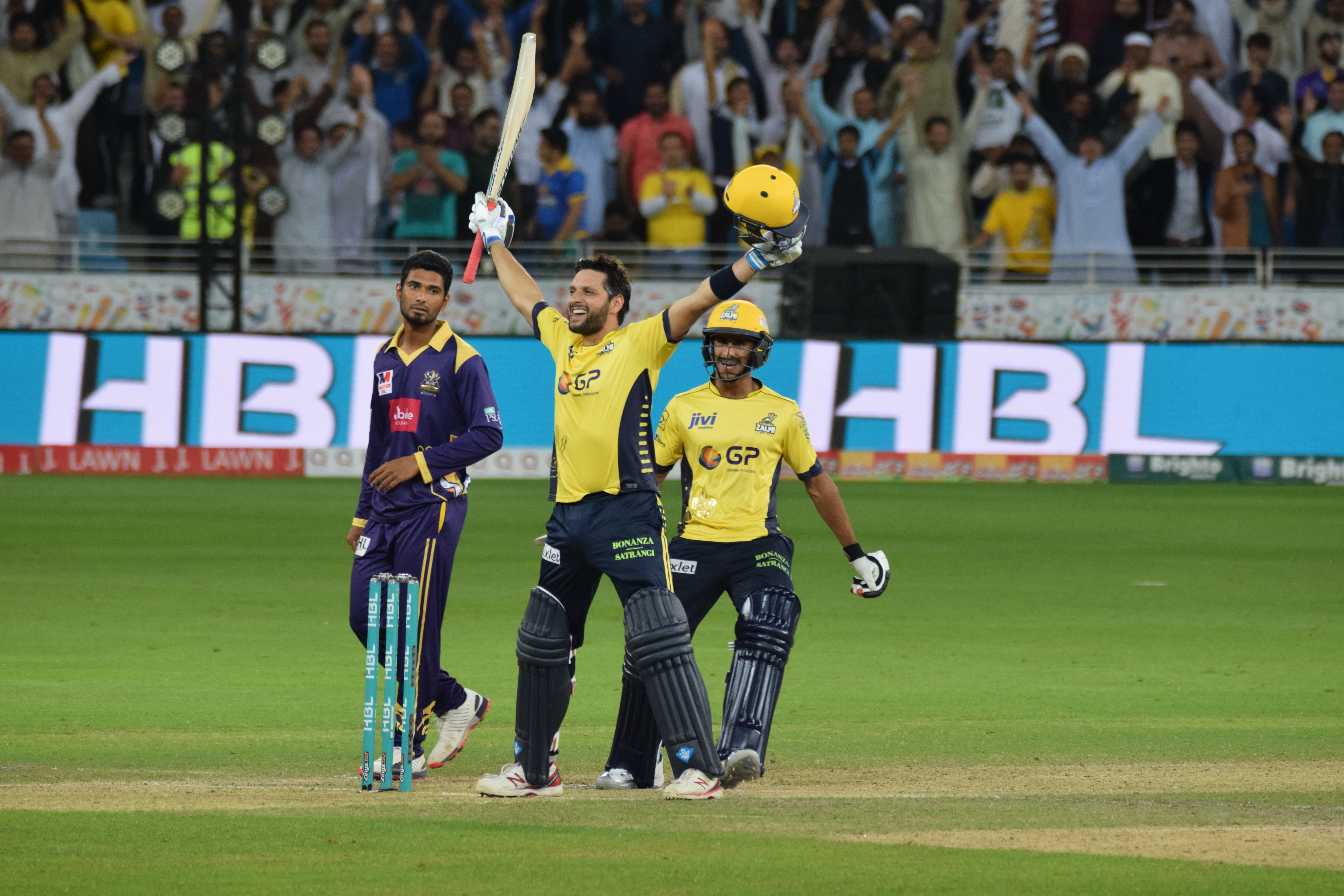 After the departure of Pietersen and Rossouw the Gladiators innings quickly subsided as the Zalmi attack found their groove. Gladiators lost their last seven wickets for the addition of 38 runs only, Asghar took three wickets in his four overs while Hassan and Wahab Riaz claimed two wickets each.
Scorecard
19th Match: Peshawar Zalmi vs Quetta Gladiators | Peshawar Zalmi won by 2 wickets
Match Details
| | | | |
| --- | --- | --- | --- |
| Toss | Peshawar Zalmi, who chose to field | Tournament | HBL Pakistan Super League 2017 |
| Umpires | Ahsan Raza (Pakistan) and Ahmed Shahab | Match Date | 25 Feb 2017 |
| Match Referee | RS Mahanama | Ground | Dubai International Cricket Stadium, Dubai |
| TV Umpire | Aleem Dar (Pakistan) | | |
| Player of Match | Mohammad Asghar (Peshawar Zalmi) | | |
Quetta Gladiators Innings

R
M
B
4s
6s
1

Asad Shafiq

st Kamran Akmal b Mohammad Asghar
3
0
5
0
0
2

Ahmed Shehzad

c Sohaib Maqsood b Mohammad Asghar
0
0
4
0
0
3

Kevin Pietersen

c Hasan Ali b Mohammad Asghar
41
0
43
4
0
4

Rilee Rossouw

c Mohammad Asghar b Shakib Al Hasan
38
0
34
3
2
5

Mohammad Nawaz

c & b Hasan Ali
18
0
12
0
1
6

Sarfraz Ahmed * †

run out Shakib Al Hasan
8
0
7
1
0
7

Mahmudullah

b Wahab Riaz
0
0
2
0
0
8

Hassan Khan

run out Hasan Ali
5
0
8
0
0
9

Zulfiqar Babar

c Wahab Riaz b Hasan Ali
0
0
1
0
0
10

Umar Gul

c & b Wahab Riaz
2
0
3
0
0
11

Tymal Mills

not out
1
0
1
0
0
Extra
lb 9, w 3
12
Total
10 wickets; 20.0 overs;
128
6.4 runs per over
Fall of wickets
1-3 ( Asad Shafiq, 1.1 ) ;
2-4 ( Ahmed Shehzad, 1.5 ) ;
3-90 ( Rilee Rossouw, 13.5 ) ;
4-98 ( Kevin Pietersen, 15.1 ) ;
5-118 ( Sarfraz Ahmed, 17.1 ) ;
6-118 ( Mahmudullah , 17.3 ) ;
7-121 ( Mohammad Nawaz, 18.1 ) ;
8-122 ( Zulfiqar Babar, 18.3 ) ;
9-126 ( Umar Gul, 19.4 ) ;
10-128 ( Hassan Khan, 20.0 )
| Bowling | Overs | Maidens | Runs | Wickets | Wides | No balls |
| --- | --- | --- | --- | --- | --- | --- |
| Hasan Ali | 4.0 | 0 | 22 | 2 | 0 | 0 |
| Mohammad Asghar | 4.0 | 0 | 33 | 3 | 0 | 0 |
| Shakib Al Hasan | 4.0 | 1 | 25 | 1 | 1 | 0 |
| Wahab Riaz | 4.0 | 0 | 17 | 2 | 2 | 0 |
| Shahid Afridi | 4.0 | 1 | 22 | 0 | 0 | 0 |
Peshawar Zalmi Innings

R
M
B
4s
6s
1

Tamim Iqbal

st Sarfraz Ahmed b Mahmudullah
7
0
13
0
0
2

Kamran Akmal †

lbw Mohammad Nawaz
26
0
30
1
1
3

Marlon Samuels

c Umar Amin b Tymal Mills
7
0
4
0
1
4

Mohammad Hafeez

c Sarfraz Ahmed b Tymal Mills
22
0
33
3
0
5

Shakib Al Hasan

run out Hassan Khan
1
0
1
0
0
6

Sohaib Maqsood

c Asad Shafiq b Mahmudullah
0
0
2
0
0
7

Darren Sammy *

c Mohammad Nawaz b Mahmudullah
0
0
1
0
0
8

Shahid Afridi

not out
45
0
23
3
3
9

Wahab Riaz

c Sarfraz Ahmed b Tymal Mills
1
0
6
0
0
10

Hasan Ali

not out
8
0
3
2
0
11

Mohammad Asghar

Did not bat
Extra
lb 1, w 12
13
Total
8 wickets; 19.2 overs; 0 mins
130
6.72 runs per over
Fall of wickets
1-38 ( Tamim Iqbal, 6.2 ) ;
2-50 ( Marlon Samuels, 7.4 ) ;
3-51 ( Kamran Akmal, 8.1 ) ;
4-52 ( Shakib Al Hasan, 8.4 ) ;
5-52 ( Sohaib Maqsood, 9.2 ) ;
6-52 ( Darren Sammy, 9.3 ) ;
7-89 ( Mohammad Hafeez, 16.0 ) ;
8-113 ( Wahab Riaz, 18.3 ) ;
| Bowling | Overs | Maidens | Runs | Wickets | Wides | No balls |
| --- | --- | --- | --- | --- | --- | --- |
| Zulfiqar Babar | 4.0 | 1 | 23 | 0 | 5 | 0 |
| Hassan Khan | 4.0 | 0 | 23 | 0 | 1 | 0 |
| Mahmudullah | 3.2 | 0 | 31 | 3 | 0 | 0 |
| Tymal Mills | 4.0 | 0 | 20 | 3 | 4 | 0 |
| Mohammad Nawaz | 4.0 | 0 | 32 | 1 | 0 | 0 |
Match Notes
Quetta Gladiators Inning
Quetta Gladiators : 50 runs in 9.2 overs (56 balls), Extras 2
3rd Wicket : 50 runs in 50 balls
(Kevin Pietersen 30
, Rilee Rossouw 22
, Ex 6)
Quetta Gladiators : 100 runs in 15.2 overs (92 balls), Extras 11
Innings Break : Quetta Gladiators – 128/10 in 20.0 overs
(Tymal Mills 1
Peshawar Zalmi Inning
Peshawar Zalmi : 50 runs in 7.3 overs (45 balls), Extras 10
Peshawar Zalmi : 100 runs in 17.1 overs (103 balls), Extras 11
9th Wicket : 50 runs in 5 balls
(Shahid Afridi 8
, Hasan Ali 8
, Ex 1)