HBL PSL 2017 – 1st Match: Peshawar Zalmi vs Islamabad United
Highlights
Photo Gallery
Match Report
HBL PSL 2017 – 1st Match: Peshawar Zalmi vs Islamabad United

Defending champions Islamabad United are off to a winning start in the HBL Pakistan Super League (PSL) 2017 as the beat Peshawar Zalmi by seven wickets. United chased down the revised target of 173 runs in 18 overs with two balls to spare after a brief rain spell halted the game brining their 191 run target in 20 overs down to 173 in 18.
Brad Haddin top-scored with 73 scored off only 39 balls, his innings included three sixes and 18 fours, Dwayne Smith scored 55 off 49 balls, Haddin and Smith added 104 runs in a match winning alliance that got their title defence to an excellent start.
Earlier a scintillating 88 run innings by Peshawar Zalmi wicket-keeper batsman Kamran Akmal propelled the team to a score of 190 for nine in the allotted 20 overs.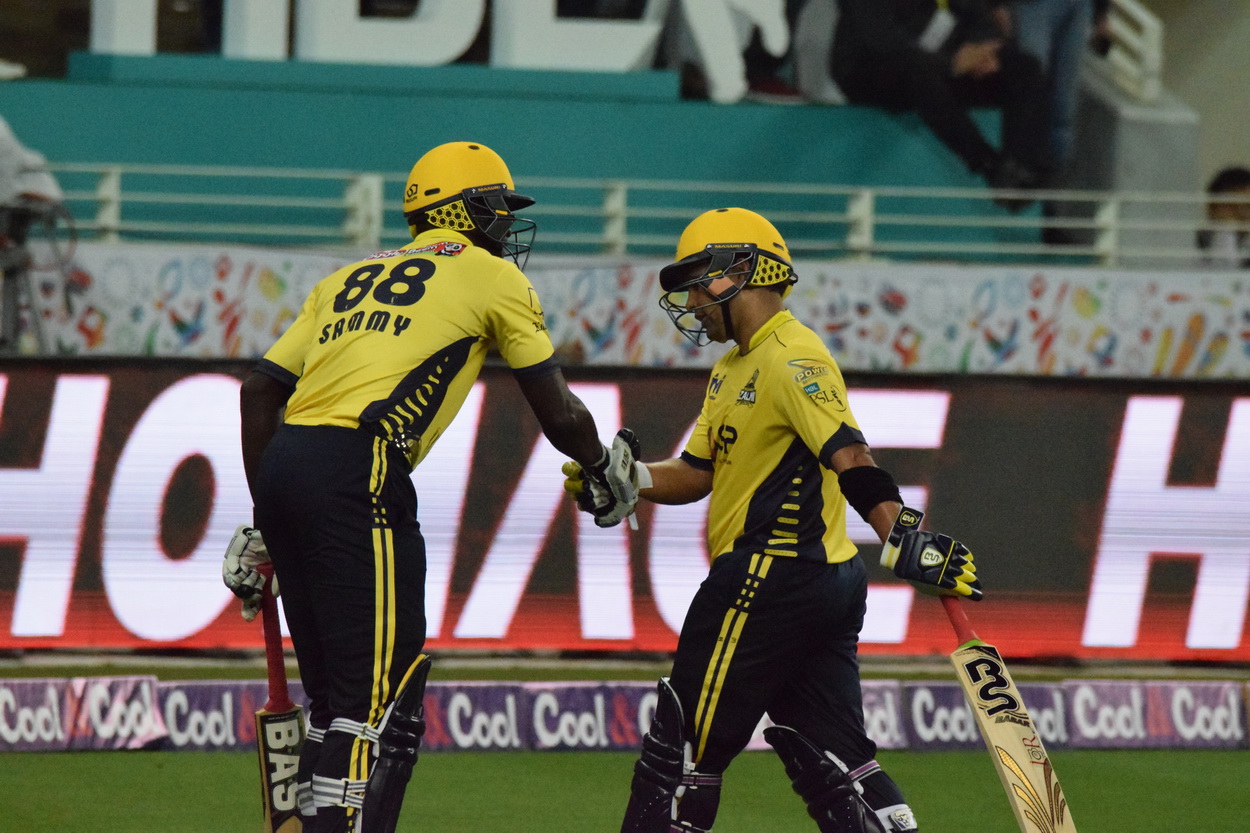 After losing Mohammad Hafeez on the opening ball of the match and the tournament the Zalmis roared back in contention with a 122 run partnership in only 68 balls between Akmal and Dawid Malan who scored 43 in only 30 balls with the help of three sixes and four fours.
Akmal smashed six massive sixes besides hitting four boundaries in his innings that came off 48 balls. Zalmis suffered with a blip in form during the last few overs of their innings, they lost their middle and lower order in a clutter yet ended with a big score with eight wickets falling for an addition of 60 runs.
Shane Watson took four wickets conceding 44 runs in his quota of four overs
Scorecard
1st Match: Peshawar Zalmi vs Islamabad United | Islamabad United won by 7 wickets (D/L method)
Match Details
| | | | |
| --- | --- | --- | --- |
| Toss | Islamabad United, who chose to field | Tournament | HBL Pakistan Super League 2017 |
| Umpires | Ahsan Raza (Pakistan) and Shozab Raza (Pakistan) | Match Date | 09 Feb 2017 |
| Match Referee | RS Mahanama | Ground | Dubai International Cricket Stadium, Dubai |
| TV Umpire | Rashid Riaz (Pakistan) | | |
| Player of Match | Brad Haddin (Islamabad United) | | |
Peshawar Zalmi Innings

R
M
B
4s
6s
1

Mohammad Hafeez
c Sharjeel Khan b Mohammad Irfan
0
0
1
0
0
2

Dawid Malan
c Imran Khalid b Shane Watson
43
0
30
4
3
3

Kamran Akmal †
c Misbah ul Haq b Mohammad Sami
88
0
48
6
6
4

Eoin Morgan
b Saeed Ajmal
1
0
3
0
0
5

Haris Sohail
c Brad Haddin b Shane Watson
12
0
14
0
0
6

Darren Sammy *
c Sharjeel Khan b Mohammad Irfan
7
7
0
0
1
7

Shahid Afridi
c Misbah ul Haq b Shane Watson
4
0
4
0
0
8

Iftikhar Ahmed
c Brad Haddin b Mohammad Sami
0
0
1
0
0
9

Chris Jordan
not out
16
0
10
1
1
10

Hasan Ali
c Amad Butt b Shane Watson
4
0
2
1
0
11

Junaid Khan
not out
0
0
0
0
0
Extra
b 4, lb 7, w 4
15
Total
9 wickets; 20.0 overs; 0 mins
190
9.5 runs per over
Fall of wickets
1-1 ;
2-122 ;
3-126 ;
4-150 ;
5-157 ;
6-167 ;
7-167 ;
8-169 ;
9-182
| Bowling | Overs | Maidens | Runs | Wickets | Wides | No balls |
| --- | --- | --- | --- | --- | --- | --- |
| Mohammad Irfan | 4.0 | 0 | 27 | 2 | 0 | 0 |
| Mohammad Sami | 4.0 | 0 | 16 | 2 | 0 | 0 |
| Shane Watson | 4.0 | 0 | 44 | 4 | 4 | 0 |
| Saeed Ajmal | 4.0 | 0 | 44 | 1 | 0 | 0 |
| Imran Khalid | 2.0 | 0 | 23 | 0 | 0 | 0 |
| Amad Butt | 2.0 | 0 | 25 | 0 | 0 | 0 |
Islamabad United Innings

R
M
B
4s
6s
1

Dwayne Smith
c Chris Jordan b Junaid Khan
55
0
49
8
1
2

Sharjeel Khan
lbw Hasan Ali
1
0
4
0
0
3

Brad Haddin †
c Kamran Akmal b Chris Jordan
73
0
39
8
3
4

Shane Watson
not out
26
0
13
2
2
5

Sam Billings
not out
7
0
3
1
0
6

Imran Khalid
Did not bat
7

Mohammad Sami
Did not bat
8

Saeed Ajmal
Did not bat
9

Mohammad Irfan
Did not bat
10

Amad Butt
Did not bat
11

Misbah ul Haq *
Did not bat
Extra
lb 6, w 5, nb 2
13
Total
3 wickets; 17.4 overs; 0 mins
175
9.91 runs per over
Fall of wickets
1-14 ;
2-118 ;
3-166
| Bowling | Overs | Maidens | Runs | Wickets | Wides | No balls |
| --- | --- | --- | --- | --- | --- | --- |
| Junaid Khan | 4.0 | 0 | 52 | 1 | 1 | 1 |
| Hasan Ali | 4.0 | 0 | 33 | 1 | 0 | 1 |
| Chris Jordan | 3.4 | 0 | 30 | 1 | 2 | 0 |
| Shahid Afridi | 3.0 | 0 | 29 | 0 | 0 | 0 |
| Darren Sammy * | 3.0 | 0 | 25 | 0 | 0 | 0 |