HBL PSL 2017 – 20th Match: Karachi Kings vs Islamabad United
Highlights
Photo Gallery
Match Report
HBL PSL 2017 – 20th Match: Karachi Kings vs Islamabad United
United 123/7 in 20 overs
Kings 127/4 in 14.5 overs
DUBAI February 26: Chris Gayle finally arrived at the HBL Pakistan Super League (PSL) party as his whirlwind 44 off 17 balls including five sixes and two fours gave Karachi Kings a six-wicket win and a place in the tournament play-offs that start with a clash between Peshawar Zalmi and Quetta Gladiators on Tuesday at the Sharjah Cricket Stadium.
Gayle laid the foundations of the Kings' chase with his exhilarating knock; the T20 legend had endured a series of failures leading up to the game, he was dropped from the game against Lahore Qalandars before returning to the eleven for the match tonight.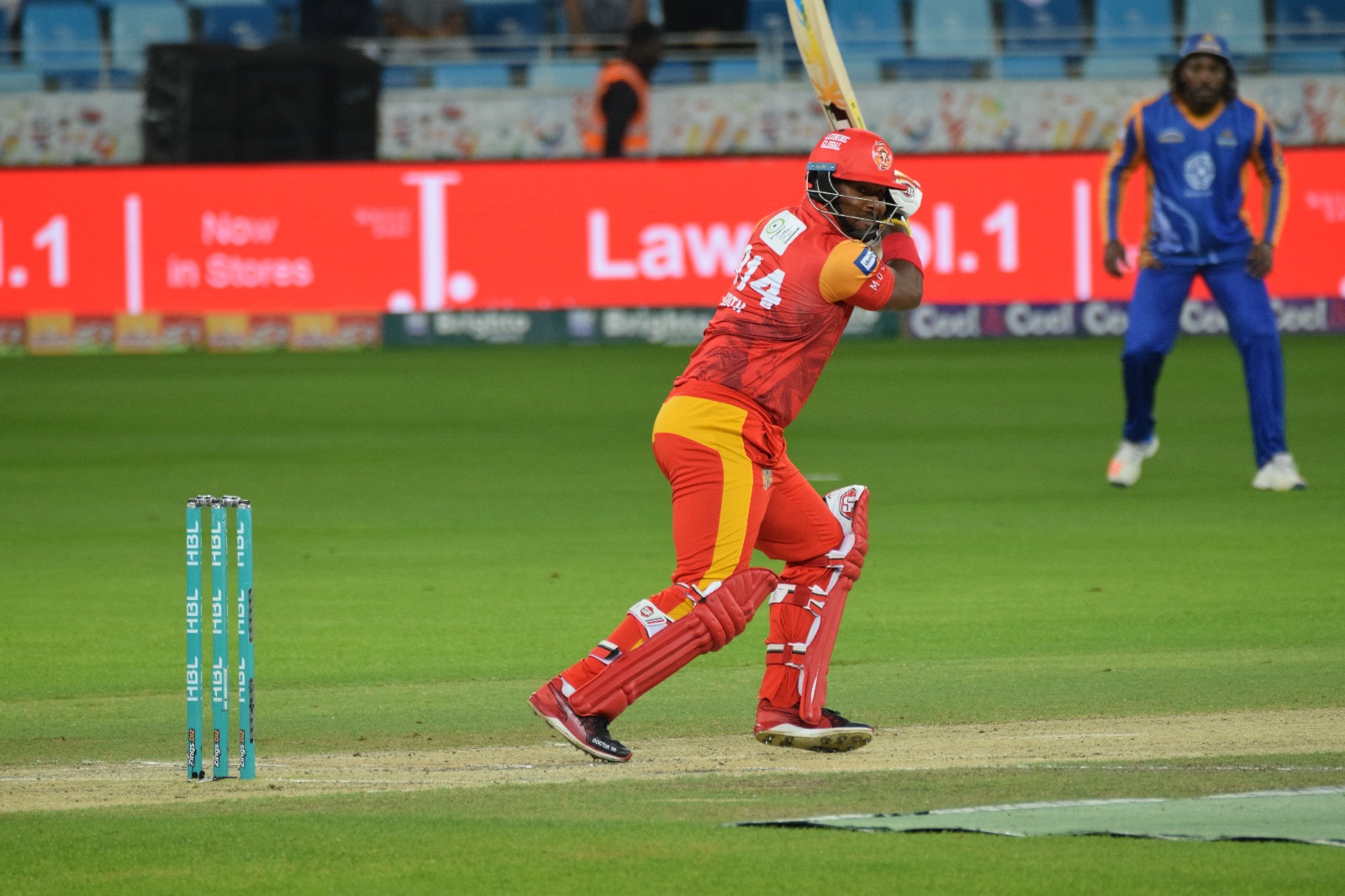 Gayle hit three sixes in one Saeed Ajmal over before falling to the spinner two balls later.
After his departure Kings stuttered for a bit as Kumar Sangakkara, Shoaib Malik and Babar Azam perished in quick succession.
The match was settled in Kings favour by the hero of the win against Qalandars Kieron Pollard (20) and Ravi Bopara (11) the two kept abreast with the required rate in the closing stages to secure the victory. Young leg-spinner Shadab Khan bowled his heart out claiming three wickets for only 13 runs in his three over spell.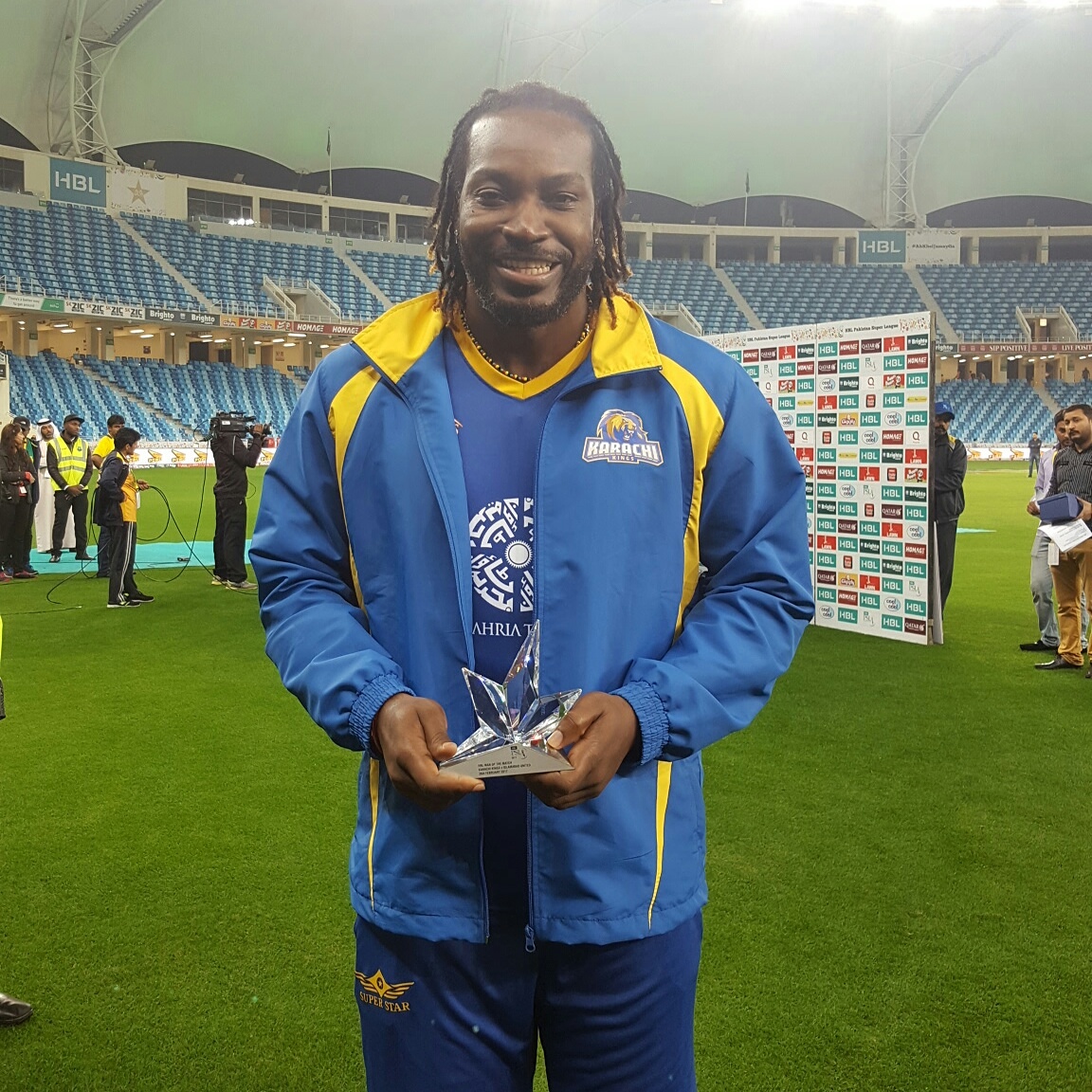 Kings win gave them the third spot on the play-offs at the expense of the Qalandars who miss out on the last four for the second successive time in as many HBL PSL seasons. United were pushed to the fourth spot after their defeat.
Earlier a 49 run innings by Dwayne Smith helped United reach 123 for seven in their allotted 15 overs after match was reduced due to persistent rain and a wet outfield. Once play started United were put on the back foot as Sangakkara won an important toss.
Other than Smith's innings, United struggled for quick runs; Ben Duckett was dismissed for 16 while Hussain Talat chipped in with 11 runs.
Brad Haddin struck a quick-fire 20 off 12 balls to help his team add some quick runs towards the end of their innings, Misbah contributed 12 off seven with one six as United managed to give Kings a competitive total in the shortened game.
Mohammad Amir, Sohail Khan and Usama Mir took two wickets each for United.
Scorecard
20th Match: Karachi Kings vs Islamabad United | Karachi Kings won by 6 wickets
Match Details
| | | | |
| --- | --- | --- | --- |
| Toss | Karachi Kings, who chose to field | Tournament | HBL Pakistan Super League 2017 |
| Umpires | Aleem Dar (Pakistan) and REJ Martinesz | Match Date | 26 Feb 2017 |
| Match Referee | RS Mahanama | Ground | Dubai International Cricket Stadium, Dubai |
| TV Umpire | Ahsan Raza (Pakistan) | | |
| Player of Match | Chris Gayle (Karachi Kings) | | |
Islamabad United Innings

R
M
B
4s
6s
1

Dwayne Smith

c Kieron Pollard b Usman Khan Shinwari
49
0
36
7
1
2

Ben Duckett

c Kieron Pollard b Sohail Khan
16
0
13
3
0
3

Hussain Talat

run out Imad Wasim
11
0
12
0
0
4

Shane Watson

c Kieron Pollard b Sohail Khan
2
0
7
0
0
5

Brad Haddin †

c Kieron Pollard b Usman Khan Shinwari
20
0
12
0
1
6

Shadab Khan

c Shoaib Malik b Mohammad Aamer
9
0
4
0
1
7

Misbah ul Haq *

c Chris Gayle b Mohammad Aamer
12
0
7
0
1
8

Mohammad Sami

not out
0
0
0
0
0
9

Saeed Ajmal

Did not bat
10

Mohammad Irfan

Did not bat
11

Rumman Raees

Did not bat
Extra
b 1, lb 1, w 1, nb 1
4
Total
7 wickets; 15.0 overs;
123
8.2 runs per over
Fall of wickets
1-37 ( Ben Duckett, 4.3 ) ;
2-57 ( Hussain Talat, 8.0 ) ;
3-61 ( Shane Watson, 9.3 ) ;
4-101 ( Brad Haddin, 13.1 ) ;
5-101 ( Dwayne Smith, 13.2 ) ;
6-121 ( Shadab Khan, 14.4 ) ;
7-123 ( Misbah ul Haq , 15.0 )
| Bowling | Overs | Maidens | Runs | Wickets | Wides | No balls |
| --- | --- | --- | --- | --- | --- | --- |
| Imad Wasim | 3.0 | 0 | 20 | 0 | 0 | 0 |
| Mohammad Aamer | 3.0 | 0 | 25 | 2 | 0 | 0 |
| Sohail Khan | 3.0 | 0 | 23 | 2 | 0 | 0 |
| Usman Khan Shinwari | 3.0 | 0 | 25 | 2 | 0 | 1 |
| Usama Mir | 3.0 | 0 | 28 | 0 | 1 | 0 |
Karachi Kings Innings

R
M
B
4s
6s
1

Babar Azam

b Shadab Khan
27
0
27
4
0
2

Chris Gayle

c Mohammad Irfan b Saeed Ajmal
44
0
17
2
5
3

Kumar Sangakkara * †

c Rumman Raees b Shadab Khan
10
0
10
2
0
4

Shoaib Malik

st Brad Haddin b Shadab Khan
7
0
12
0
0
5

Kieron Pollard

not out
20
0
13
2
0
6

Ravi Bopara

not out
11
0
10
2
0
7

Usama Mir

Did not bat
8

Mohammad Aamer

Did not bat
9

Imad Wasim

Did not bat
10

Sohail Khan

Did not bat
11

Usman Khan Shinwari

Did not bat
Extra
lb 2, w 6
8
Total
4 wickets; 14.5 overs;
127
8.56 runs per over
Fall of wickets
1-64 ( Chris Gayle, 6.0 ) ;
2-80 ( Kumar Sangakkara, 8.3 ) ;
3-92 ( Shoaib Malik, 10.5 ) ;
4-92 ( Babar Azam, 11.0 ) ;
| Bowling | Overs | Maidens | Runs | Wickets | Wides | No balls |
| --- | --- | --- | --- | --- | --- | --- |
| Mohammad Irfan | 3.0 | 0 | 35 | 0 | 2 | 0 |
| Mohammad Sami | 3.0 | 0 | 25 | 0 | 1 | 0 |
| Rumman Raees | 2.5 | 0 | 18 | 0 | 1 | 0 |
| Saeed Ajmal | 2.0 | 0 | 29 | 1 | 0 | 0 |
| Shadab Khan | 3.0 | 0 | 13 | 3 | 1 | 0 |
| Shane Watson | 1.0 | 0 | 5 | 0 | 0 | 0 |
Match Notes
Islamabad United Inning
Islamabad United : 50 runs in 7.2 overs (44 balls), Extras 0
4th Wicket : 50 runs in 8 balls
(Brad Haddin 10
, Dwayne Smith 12
, Ex 2)
Islamabad United : 100 runs in 12.5 overs (77 balls), Extras 3
Innings Break : Islamabad United – 123/7 in 15.0 overs
(Mohammad Sami 0
Karachi Kings Inning
Karachi Kings : 50 runs in 5.2 overs (32 balls), Extras 2
1st Wicket : 50 runs in 32 balls
(Chris Gayle 18
, Babar Azam 32
, Ex 2)
Karachi Kings : 100 runs in 11.5 overs (71 balls), Extras 5