HBL PSL 2017 – 2nd Playoff: Karachi Kings vs Islamabad United
Highlights
Photo Gallery
Match Report
HBL PSL 2017 – 2nd Playoff: Karachi Kings vs Islamabad United
(Karachi Kings 126 all out in 19.4 overs)
(Islamabad United 82 all out in 15.2 overs)
SHARJAH March 1: While the first HBL Pakistan Super League (PSL) Play-Off was full of big hits and batting finesse the second play-off was a total contrast as Karachi Kings sent defending champions Islamabad United packing from the tournament with a 44 run win as they comfortably defended what looked like a below par 126 run first innings score.
Spin twins Imad Wasim, Usama Mir and pacer Mohammad Amir were the stars for Kings as United were rolled over for 82 runs on a sluggish Sharjah track where stroke making was tougher than the Peshawar Zalmi-Quetta Gladiators play-off that produced 399 runs.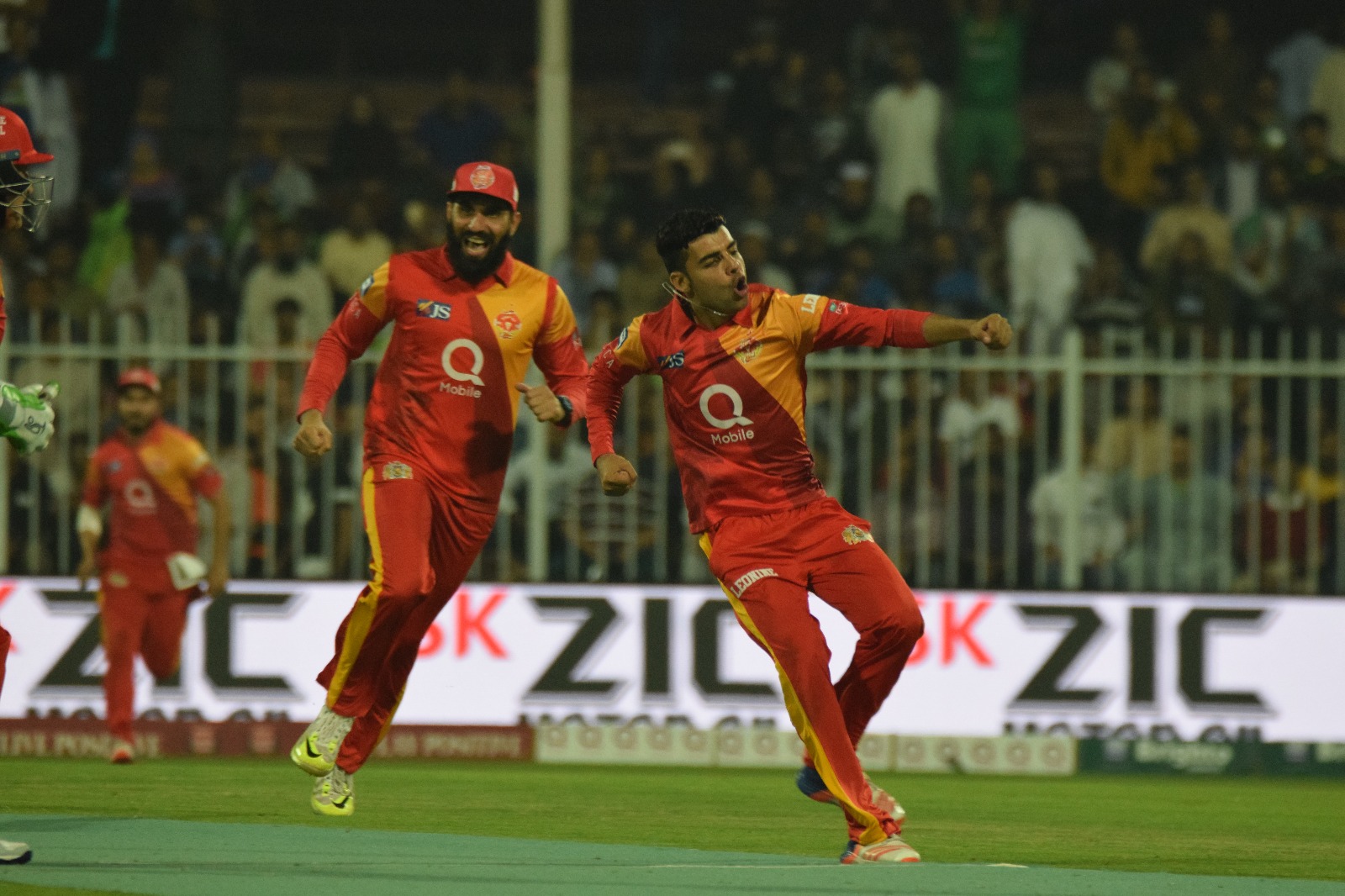 United got off to a poor start in their chase as Amir removed Dwayne Smith and Brad Haddin in a fiery opening spell, Imad and Usama than ripped apart the batting line-up as the last eight wickets fell for 35 runs.
The collapse was triggered with the dismissal of Misbahul Haq who was bowled by Man-of-the-match Imad who also accounted for Shane Watson and Nicholas Pooran who was playing his first game of the season after joining the United squad as replacement for Ben Duckett
Rumman Raees was the last man to be dismissed as Kieron Pollard took a fine running catch off Amir signaling the end of United's reign as HBL PSL champions.
Earlier Kings stuttered to their 126 run total largely due to wily bowling by Raees who took four wickets for 25 runs in his four over spell. Kings top and middle-comprising of Babar Azam, Chris Gayle, Kumar Sangakkara, Shoaib Malik and Ravi Bopara all got off to starts but failed to get any momentum in the innings.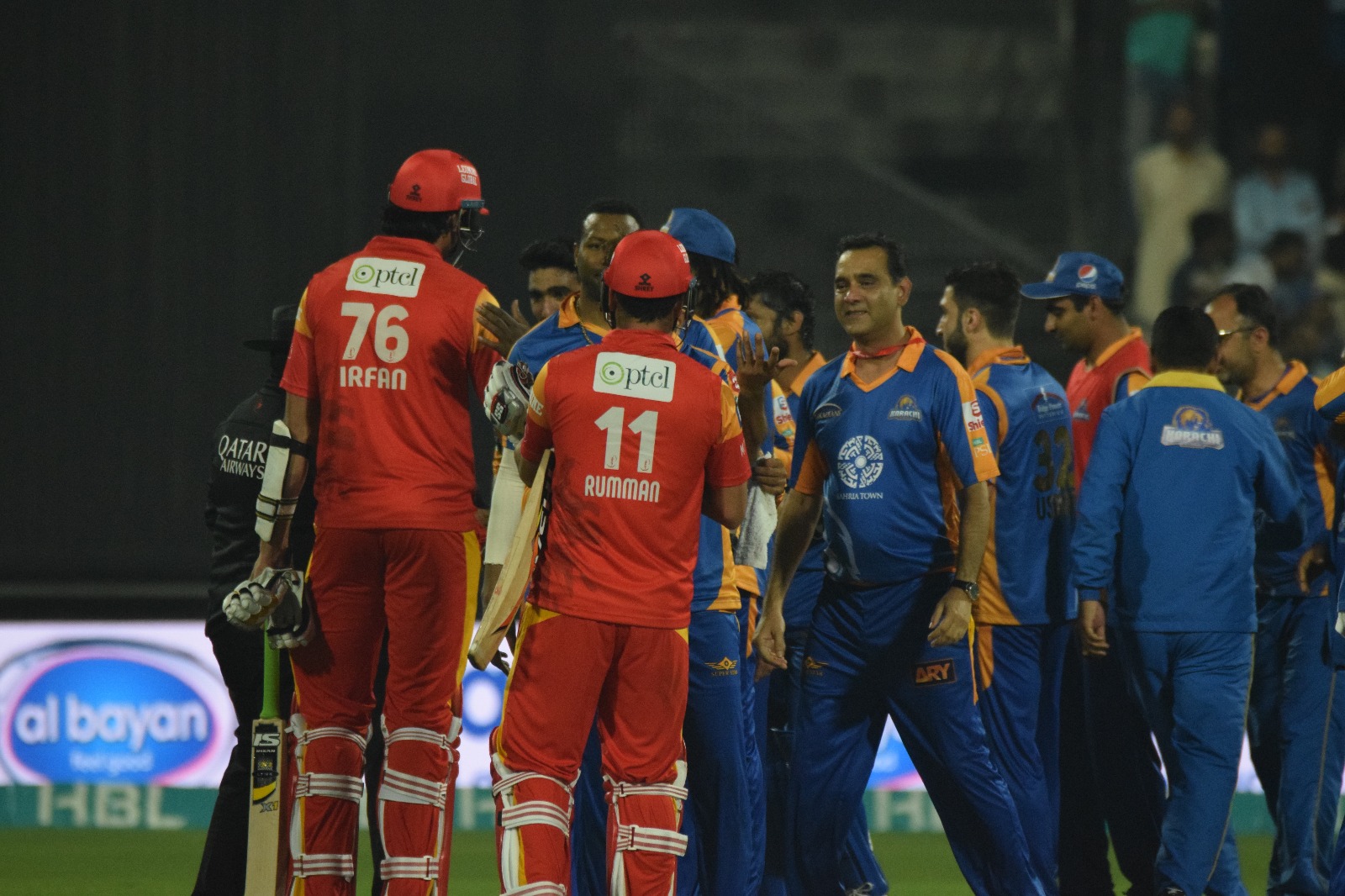 Babar and Malik top-scored with 25 each and in the end it was the measured approach by the Kings middle-order that helped them accumulate a total which was eventually well out of United's reach.
Kings now take on Zalmi in the third and final play-off; the winner will take on Quetta Gladiators in the grand final of the HBL PSL set to be played at the Gaddafi Stadium in Lahore on Sunday.
Highlights
Scorecard
2nd Playoff: Karachi Kings vs Islamabad United | Karachi Kings won by 44 runs
Match Details
| | | | |
| --- | --- | --- | --- |
| Toss | Islamabad United, who chose to field | Tournament | HBL Pakistan Super League 2017 |
| Umpires | Ahsan Raza (Pakistan) and REJ Martinesz | Match Date | 01 Mar 2017 |
| Match Referee | RS Mahanama | Ground | Sharjah Cricket Stadium, Sharjah |
| TV Umpire | Shozab Raza (Pakistan) | | |
| Player of Match | Imad Wasim (Karachi Kings) | | |
Karachi Kings Innings

R
M
B
4s
6s
1

Babar Azam

lbw Shadab Khan
25
0
21
5
0
2

Chris Gayle

b Rumman Raees
17
0
15
2
1
3

Kumar Sangakkara * †

c Misbah ul Haq b Shane Watson
17
0
19
2
0
4

Shoaib Malik

run out Asif Ali
25
0
23
2
0
5

Ravi Bopara

c Shadab Khan b Shane Watson
14
0
15
2
0
6

Kieron Pollard

c Shadab Khan b Rumman Raees
5
0
8
0
0
7

Imad Wasim

c Asif Ali b Rumman Raees
14
0
9
1
1
8

Sohail Khan

b Rumman Raees
0
0
1
0
0
9

Mohammad Aamer

not out
2
0
3
0
0
10

Usama Mir

c Rumman Raees b Mohammad Sami
1
0
2
0
0
11

Usman Khan Shinwari

b Mohammad Sami
0
0
2
0
0
Extra
lb 2, w 4
6
Total
10 wickets; 19.4 overs; 0 mins
126
6.41 runs per over
Fall of wickets
1-42 ( Chris Gayle, 5.5 ) ;
2-42 ( Babar Azam, 6.1 ) ;
3-76 ( Kumar Sangakkara, 11.3 ) ;
4-100 ( Ravi Bopara, 15.1 ) ;
5-105 ( Shoaib Malik, 15.5 ) ;
6-122 ( Imad Wasim, 18.1 ) ;
7-122 ( Kieron Pollard, 18.2 ) ;
8-123 ( Sohail Khan, 18.5 ) ;
9-125 ( Usama Mir, 19.1 ) ;
10-126 ( Usman Khan Shinwari, 19.4 )
| Bowling | Overs | Maidens | Runs | Wickets | Wides | No balls |
| --- | --- | --- | --- | --- | --- | --- |
| Mohammad Irfan | 4.0 | 1 | 28 | 0 | 1 | 0 |
| Mohammad Sami | 3.4 | 1 | 19 | 2 | 0 | 0 |
| Rumman Raees | 4.0 | 0 | 25 | 4 | 1 | 0 |
| Shadab Khan | 4.0 | 0 | 23 | 1 | 0 | 0 |
| Shane Watson | 4.0 | 0 | 29 | 2 | 2 | 0 |
Islamabad United Innings

R
M
B
4s
6s
1

Dwayne Smith

c Kumar Sangakkara b Mohammad Aamer
8
0
11
1
0
2

Asif Ali

c Kumar Sangakkara b Usama Mir
39
0
36
3
1
3

Brad Haddin †

b Mohammad Aamer
0
0
3
0
0
4

Misbah ul Haq *

b Imad Wasim
13
0
13
1
0
5

Shane Watson

b Imad Wasim
8
0
9
1
0
6

Shadab Khan

c Ravi Bopara b Usama Mir
1
0
2
0
0
7

Nicholas Pooran

lbw Imad Wasim
1
0
3
0
0
8

Amad Butt

b Sohail Khan
7
0
8
1
0
9

Mohammad Sami

lbw Usama Mir
0
0
1
0
0
10

Rumman Raees

c Kieron Pollard b Mohammad Aamer
0
0
4
0
0
11

Mohammad Irfan

not out
0
0
2
0
0
Extra
lb 1, w 4
5
Total
10 wickets; 15.2 overs; 0 mins
82
5.35 runs per over
Fall of wickets
1-12 ( Dwayne Smith, 2.3 ) ;
2-12 ( Brad Haddin, 3.0 ) ;
3-47 ( Misbah ul Haq , 8.1 ) ;
4-61 ( Shane Watson, 11.0 ) ;
5-69 ( Shadab Khan, 11.5 ) ;
6-70 ( Nicholas Pooran, 12.2 ) ;
7-77 ( Asif Ali, 13.3 ) ;
8-77 ( Mohammad Sami, 13.4 ) ;
9-82 ( Amad Butt, 14.4 ) ;
10-82 ( Rumman Raees, 15.2 )
| Bowling | Overs | Maidens | Runs | Wickets | Wides | No balls |
| --- | --- | --- | --- | --- | --- | --- |
| Mohammad Aamer | 2.2 | 0 | 7 | 3 | 0 | 0 |
| Usman Khan Shinwari | 2.0 | 0 | 11 | 0 | 0 | 0 |
| Sohail Khan | 3.0 | 0 | 21 | 1 | 1 | 0 |
| Imad Wasim | 4.0 | 0 | 18 | 3 | 1 | 0 |
| Usama Mir | 4.0 | 0 | 24 | 3 | 2 | 0 |
Match Notes
Karachi Kings Inning
Karachi Kings : 50 runs in 8.1 overs (49 balls), Extras 1
Karachi Kings : 100 runs in 15.0 overs (90 balls), Extras 3
Innings Break : Karachi Kings – 126/10 in 19.4 overs
(Mohammad Aamer 2
Islamabad United Inning
Islamabad United : 50 runs in 9.1 overs (55 balls), Extras 1