HBL PSL 2017 – 3rd Playoff: Karachi Kings vs Peshawar Zalmi
Highlights
Photo Gallery

HBL PSL 2017 – 3rd Playoff: Karachi Kings vs Peshawar Zalmi

Match Report
HBL PSL 2017 – 3rd Playoff: Karachi Kings vs Peshawar Zalmi
Peshawar Zalmi (181 for 3 in 20 overs)
Karachi Kings (157 for 7 in 20 overs)
Gifs Zalmi Batting:
Kamran Akmal SIX off Imad Wasim 8.4 overs
Kamran Akmal SIX off Bopara 13.6 overs
Kamran Akmal 100 off Amir 17.1 overs
Gifs Kings Batting
Babar Azam OUT Chris Jordan 1.1 overs
Gayle OUT Wahab Riaz 11.5 overs
Pollard SIX off Asghar 12.5 overs
Sohail Khan one run Sammy 20. Overs Zalmi win
DUBAI March 3: Kamran Akmal scored a sublime century, the first of the ongoing HBL Pakistan Super League (PSL) edition as Peshawar Zalmi booked a spot in the tournament final with a comfortable 24 run win over Karachi Kings.
Asked to bat first on a batting friendly track in front of a heaving, packed to capacity Dubai International Cricket Stadium, Kamran led the Zalmi onslaught in a 97 run stand with opener Dawid Malan who made a 36 run contribution.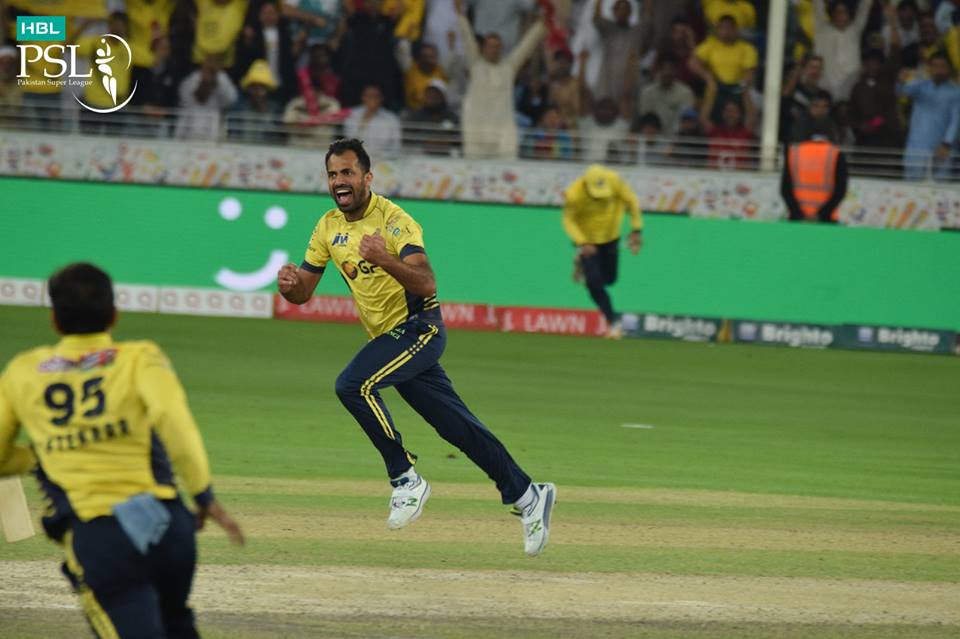 Kamran played some delightful shots in his 65 ball innings that included seven sixes and six fours. His stroke play brought immense joy to the Friday night crowd that had gathered to see the two teams fight for a spot in the Lahore final along with Quetta Gladiators.
Kamran brought up his century on the 60th ball of his innings, he was run out shortly afterwards as Zalmi sought some quick runs towards the end of their innings.
Marlon Samuels played a useful 37 run hand off only 22 balls as Zalmi posted an impressive 181 run score.
Kings got off to a disastrous start losing their first four wickets with only 35 runs on the board. Their HBL PSL 2017 leading run scorer Babar Azam, captain Kumar Sangakkara, Shoaib Malik and Ravi Bopara were all dismissed cheaply as Zalmi bowlers started their stint with penetrative spells.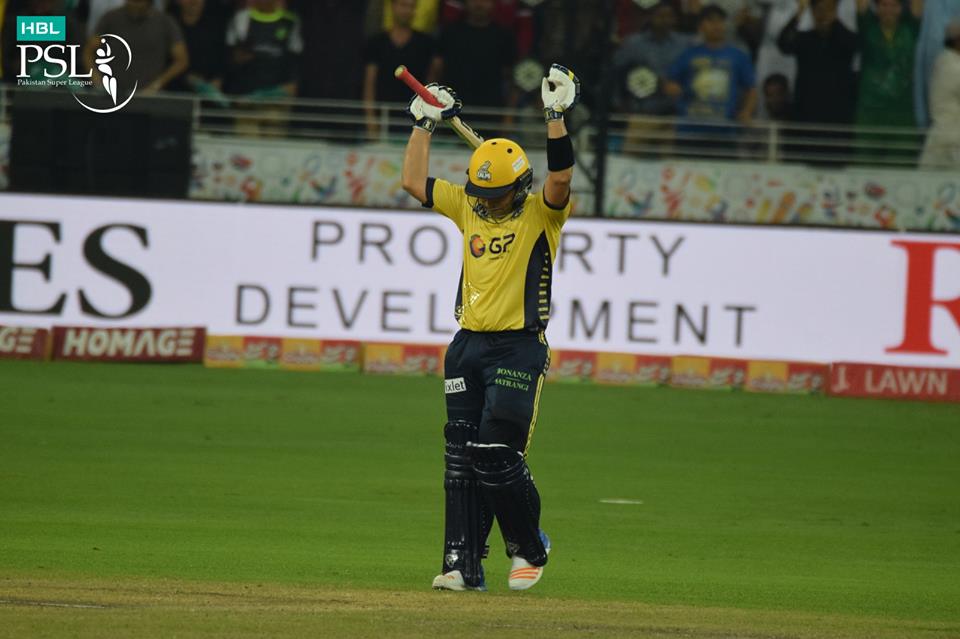 Chris Gayle struck four sixes in his 31 ball 40 run knock before he was bowled by Wahab Riaz. Kieron Pollard kept the Kings in the hunt with a belligerent 47 run innings which was studded with three sixes and four fours, his departure in the 18th over signaled the end of the Kings resistance as they ended their 20 overs, 24 run short of the target.
Wahab and Chris Jordan took three wickets each in highly impressive spells; Zalmi though suffered a big blow before the final as star all-rounder Shahid Afridi was ruled out of the game after injuring his right hand while attempting to catch a tough chance off Pollard.
Kamran Akmal was meanwhile named man-of-the-match for his outstanding innings.
Scorecard
3rd Playoff: Karachi Kings vs Peshawar Zalmi | Peshawar Zalmi won by 24 runs
Match Details
| | | | |
| --- | --- | --- | --- |
| Toss | Karachi Kings, who chose to field | Tournament | HBL Pakistan Super League 2017 |
| Umpires | Shozab Raza (Pakistan) and REJ Martinesz | Match Date | 03 Mar 2017 |
| Match Referee | | Ground | Dubai International Cricket Stadium, Dubai |
| TV Umpire | Ahsan Raza (Pakistan) | | |
| Player of Match | Kamran Akmal (Peshawar Zalmi) | | |
Peshawar Zalmi Innings

R
M
B
4s
6s
1

Kamran Akmal †

run out Ravi Bopara
104
0
65
6
7
2

Dawid Malan

c Babar Azam b Sohail Khan
36
0
31
4
1
3

Marlon Samuels

not out
37
0
22
3
1
4

Shahid Afridi

c Babar Azam b Mohammad Aamer
0
0
1
0
0
5

Darren Sammy *

not out
0
0
1
0
0
6

Wahab Riaz

Did not bat
7

Mohammad Asghar

Did not bat
8

Hasan Ali

Did not bat
9

Chris Jordan

Did not bat
10

Mohammad Hafeez

Did not bat
11

Khushdil Shah

Did not bat
Extra
lb 3, w 1
4
Total
3 wickets; 20.0 overs;
181
9.05 runs per over
Fall of wickets
1-97 ( Dawid Malan, 11.3 ) ;
2-174 ( Kamran Akmal, 19.1 ) ;
3-179 ( Shahid Afridi, 19.4 ) ;
| Bowling | Overs | Maidens | Runs | Wickets | Wides | No balls |
| --- | --- | --- | --- | --- | --- | --- |
| Mohammad Aamer | 4.0 | 0 | 31 | 1 | 0 | 0 |
| Imad Wasim | 3.0 | 0 | 22 | 0 | 0 | 0 |
| Sohail Khan | 4.0 | 0 | 32 | 1 | 1 | 0 |
| Usman Khan Shinwari | 4.0 | 0 | 26 | 0 | 0 | 0 |
| Usama Mir | 2.0 | 0 | 26 | 0 | 0 | 0 |
| Ravi Bopara | 3.0 | 0 | 41 | 0 | 0 | 0 |
Karachi Kings Innings

R
M
B
4s
6s
1

Babar Azam

c Wahab Riaz b Chris Jordan
1
0
7
0
0
2

Chris Gayle

b Wahab Riaz
40
0
31
2
4
3

Kumar Sangakkara * †

c Marlon Samuels b Wahab Riaz
15
0
13
1
1
4

Shoaib Malik

c Mohammad Hafeez b Chris Jordan
0
0
1
0
0
5

Ravi Bopara

st Kamran Akmal b Mohammad Hafeez
6
0
11
0
0
6

Kieron Pollard

c Kamran Akmal b Wahab Riaz
47
0
26
4
3
7

Imad Wasim

c Mohammad Hafeez b Chris Jordan
24
0
19
1
1
8

Sohail Khan

not out
4
0
6
0
0
9

Mohammad Aamer

not out
8
0
6
1
0
10

Usama Mir

Did not bat
11

Usman Khan Shinwari

Did not bat
Extra
lb 4, w 8
12
Total
7 wickets; 20.0 overs; 0 mins
157
7.85 runs per over
Fall of wickets
1-2 ( Babar Azam, 1.1 ) ;
2-19 ( Kumar Sangakkara, 4.5 ) ;
3-19 ( Shoaib Malik, 5.1 ) ;
4-35 ( Ravi Bopara, 8.2 ) ;
5-80 ( Chris Gayle, 11.5 ) ;
6-142 ( Kieron Pollard, 17.5 ) ;
7-144 ( Imad Wasim, 18.2 ) ;
| Bowling | Overs | Maidens | Runs | Wickets | Wides | No balls |
| --- | --- | --- | --- | --- | --- | --- |
| Hasan Ali | 4.0 | 0 | 21 | 0 | 1 | 0 |
| Chris Jordan | 4.0 | 0 | 26 | 3 | 3 | 0 |
| Mohammad Hafeez | 3.0 | 0 | 16 | 1 | 0 | 0 |
| Wahab Riaz | 4.0 | 0 | 24 | 3 | 0 | 0 |
| Shahid Afridi | 2.0 | 0 | 27 | 0 | 0 | 0 |
| Darren Sammy * | 2.0 | 0 | 21 | 0 | 3 | 0 |
| Mohammad Asghar | 1.0 | 0 | 18 | 0 | 1 | 0 |
Match Notes
Peshawar Zalmi Inning
Peshawar Zalmi : 50 runs in 6.4 overs (40 balls), Extras 2
1st Wicket : 50 runs in 43 balls
(Kamran Akmal 22
, Dawid Malan 28
, Ex 2)
Kamran Akmal : 50 off 33 balls
(
5 x 4 3 x 6 )
Peshawar Zalmi : 100 runs in 12.1 overs (73 balls), Extras 2
2nd Wicket : 100 runs in 26 balls
(Kamran Akmal 33
, Marlon Samuels 13
, Ex 1)
Peshawar Zalmi : 150 runs in 16.3 overs (99 balls), Extras 3
Kamran Akmal : 100 off 60 balls
(
6 x 4 7 x 6 )
Innings Break : Peshawar Zalmi – 181/3 in 20.0 overs
(Marlon Samuels 37
, Darren Sammy 0)
Karachi Kings Inning
Karachi Kings : 50 runs in 9.4 overs (58 balls), Extras 4

5th Wicket : 50 runs in 19 balls
(Chris Gayle 13
, Kieron Pollard 31
, Ex 1)

Karachi Kings : 100 runs in 13.1 overs (79 balls), Extras 6
Karachi Kings : 150 runs in 18.5 overs (113 balls), Extras 10