HBL PSL 2017 – 6th Match: Lahore Qalandars vs Peshawar Zalmi
Highlights
Photo Gallery
Match Report
HBL PSL 2017 – 1st Match: Peshawar Zalmi vs Islamabad United

(Lahore Qalandars 59 in 10.2 overs)
(Peshawar Zalmi 60 for 7 in 17 overs)
DUBAI February 12: Peshawar Zalmi scored their second successive win in the HBL Pakistan Super League (PSL) 2017 edition as they edged out Lahore Qalandars in a low scoring match played at the Dubai International Cricket Stadium (DIS).
Batting first, the Qalandars were rolled over for a 59 run total as the Zalmi bowlers made regular inroads into their batting line-up. After losing openers Jason Roy and Brendon McCullum cheaply the Qalandars failed to recover as the Zalmi bowlers tightened the noose around them.  Fakhar Zaman (33) and Mohammad Rizwan (11) were the only batsmen to reach double figures, Hassan Ali collected three wickets while Chris Jordan took two wickets in his 1.2 overs, Qalandars were rolled over in 10.2 overs.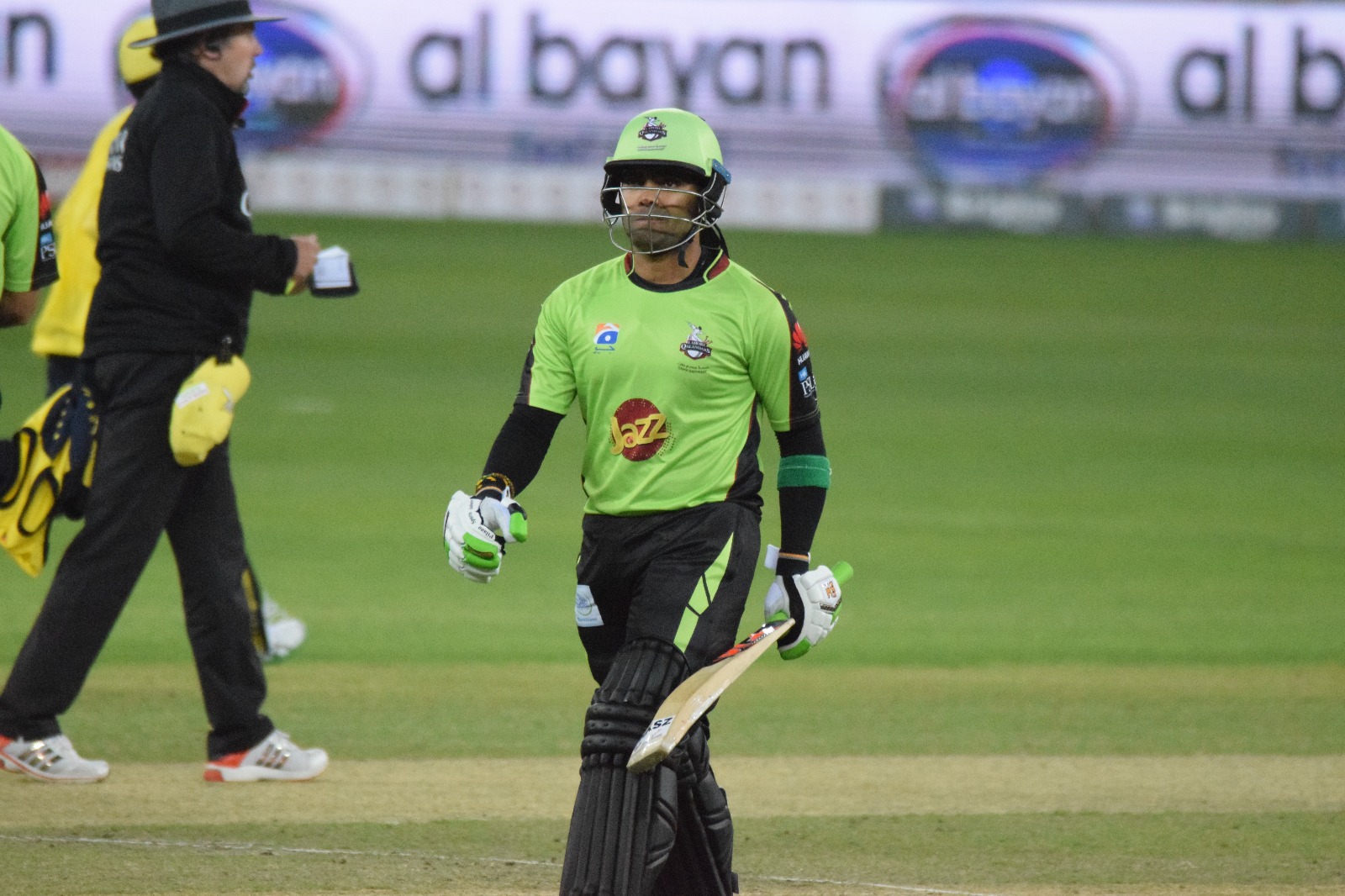 In reply the Zalmis had a disastrous start too Mohammad Hafeez, Dawid Malan and Kamran Akmal fell cheaply. Eoin Morgan held the innings together with a steady 23 while Shahid Afridi contributed 13 runs. The wickets though kept tumbling and nine runs were needed when the seventh wicket (Sohaib Maqsood) fell.
Wahab Riaz and Chris Jordan kept their nerves together consuming 20 deliveries in collecting the last nine runs; the chase was completed on the last ball of the 17th over as the Zalmi dugout breathed a sigh of relief.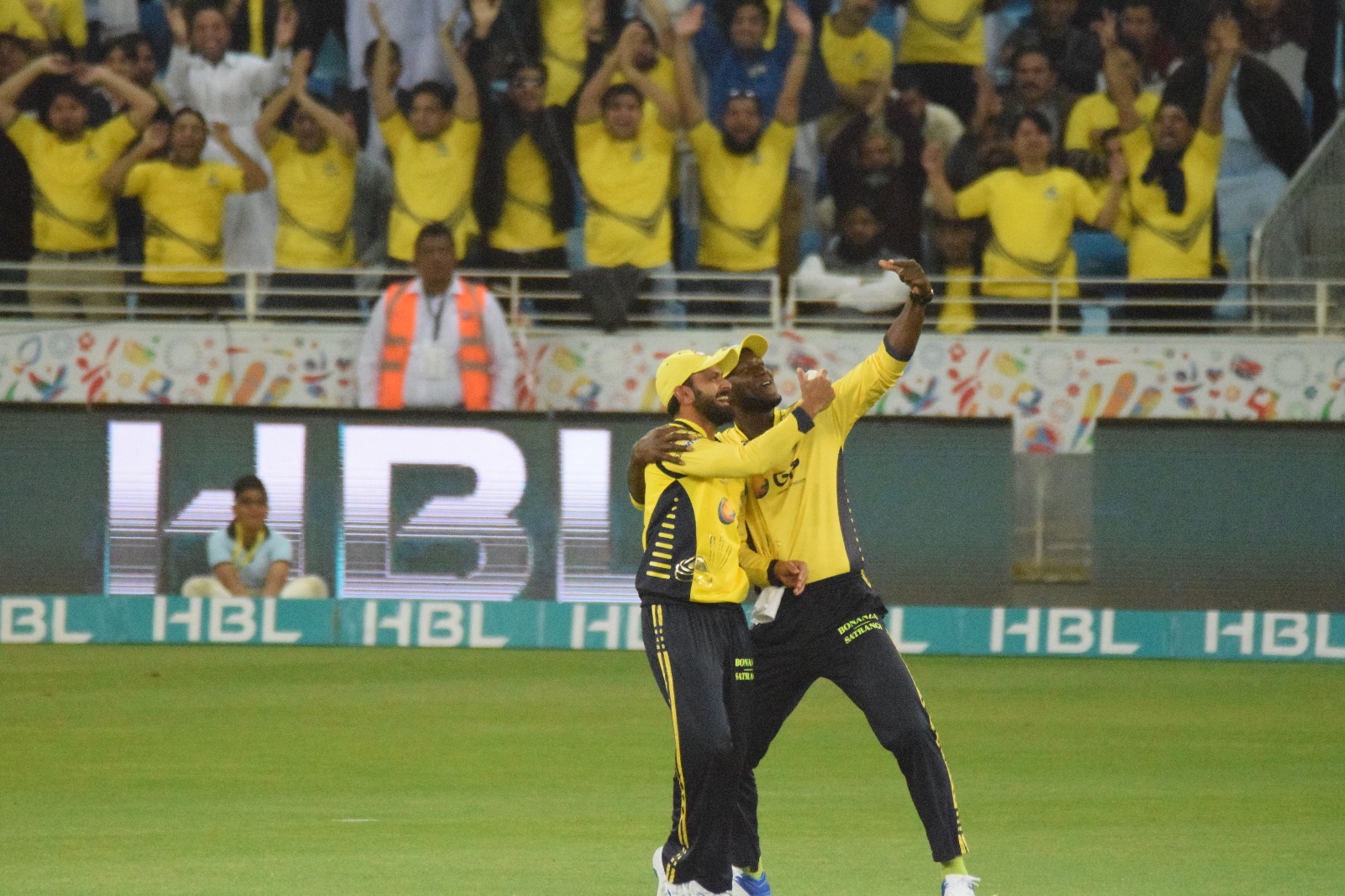 Yasir Shah wrecked the Zalmi middle and lower order in an outstanding spell of leg spin bowling that yielded him figures of four for seven in his allotted quota of four overs, he was later adjudged man-of-the-match.
Qalandars total was the lowest in the HBL PSL history while the match aggregate was also the lowest ever.
Scorecard
6th Match: Lahore Qalandars vs Peshawar Zalmi | Peshawar Zalmi won by 3 wickets
Match Details
| | | | |
| --- | --- | --- | --- |
| Toss | Peshawar Zalmi, who chose to field | Tournament | HBL Pakistan Super League 2017 |
| Umpires | Aleem Dar (Pakistan) and Richard Illingworth (England) | Match Date | 12 Feb 2017 |
| Match Referee | Mohammad Anees (Pakistan) | Ground | Dubai International Cricket Stadium, Dubai |
| TV Umpire | Ahsan Raza (Pakistan) | | |
| Player of Match | Yasir Shah (Lahore Qalandars) | | |
Lahore Qalandars Innings

R
M
B
4s
6s
1

Jason Roy

c Chris Jordan b Hasan Ali
9
0
6
2
0
2

Brendon McCullum *

c Dawid Malan b Mohammad Asghar
0
0
3
0
0
3

Fakhar Zaman

c Kamran Akmal b Chris Jordan
33
0
19
4
1
4

Umar Akmal

c Mohammad Hafeez b Hasan Ali
0
0
3
0
0
5

Grant Elliott

c Darren Sammy b Hasan Ali
0
0
3
0
0
6

Mohammad Rizwan †

c Eoin Morgan b Wahab Riaz
11
0
12
2
0
7

Sunil Narine

c Chris Jordan b Mohammad Hafeez
2
0
3
0
0
8

Sohail Tanvir

run out Chris Jordan
1
0
9
0
0
9

Bilawal Bhatti

b Shahid Afridi
1
0
4
0
0
10

Yasir Shah

not out
0
0
0
0
0
11

Mohammad Irfan Jr

c Kamran Akmal b Chris Jordan
0
0
1
0
0
Extra
w 1, nb 1
2
Total
10 wickets; 10.2 overs; 0 mins
59
5.71 runs per over
Fall of wickets
1-5 ( Brendon McCullum, 1.0 ) ;
2-9 ( Jason Roy, 1.3 ) ;
3-9 ( Umar Akmal, 2.0 ) ;
4-27 ( Grant Elliott, 3.3 ) ;
5-47 ( Mohammad Rizwan, 6.2 ) ;
6-52 ( Sunil Narine, 7.1 ) ;
7-53 ( Sohail Tanvir, 8.5 ) ;
8-59 ( Bilawal Bhatti, 10.0 ) ;
9-59 ( Fakhar Zaman, 10.1 ) ;
10-59 ( Mohammad Irfan Jr, 10.2 )
| Bowling | Overs | Maidens | Runs | Wickets | Wides | No balls |
| --- | --- | --- | --- | --- | --- | --- |
| Mohammad Asghar | 1.0 | 0 | 5 | 1 | 0 | 0 |
| Hasan Ali | 3.0 | 0 | 23 | 3 | 0 | 1 |
| Mohammad Hafeez | 2.0 | 0 | 12 | 1 | 0 | 0 |
| Chris Jordan | 1.2 | 0 | 8 | 2 | 0 | 0 |
| Wahab Riaz | 2.0 | 0 | 9 | 1 | 1 | 0 |
| Shahid Afridi | 1.0 | 0 | 2 | 1 | 0 | 0 |
Peshawar Zalmi Innings

R
M
B
4s
6s
1

Mohammad Hafeez

st Mohammad Rizwan b Sunil Narine
3
0
11
0
0
2

Dawid Malan

lbw Sohail Tanvir
1
0
3
0
0
3

Kamran Akmal †

c Grant Elliott b Yasir Shah
3
0
13
0
0
4

Eoin Morgan

c Fakhar Zaman b Yasir Shah
23
0
26
3
0
5

Shahid Afridi

c Grant Elliott b Sunil Narine
13
0
15
1
1
6

Sohaib Maqsood

c Brendon McCullum b Yasir Shah
0
0
4
0
0
7

Darren Sammy *

b Yasir Shah
3
0
9
0
0
8

Chris Jordan

not out
3
0
10
0
0
9

Wahab Riaz

not out
5
0
12
0
0
10

Mohammad Asghar

Did not bat
11

Hasan Ali

Did not bat
Extra
w 5, nb 1
6
Total
7 wickets; 17.0 overs; 0 mins
60
3.53 runs per over
Fall of wickets
1-4 ( Dawid Malan, 2.0 ) ;
2-4 ( Mohammad Hafeez, 2.2 ) ;
3-24 ( Kamran Akmal, 7.1 ) ;
4-47 ( Shahid Afridi, 11.0 ) ;
5-47 ( Sohaib Maqsood, 11.4 ) ;
6-48 ( Eoin Morgan, 12.0 ) ;
7-51 ( Darren Sammy, 13.4 ) ;
| Bowling | Overs | Maidens | Runs | Wickets | Wides | No balls |
| --- | --- | --- | --- | --- | --- | --- |
| Sunil Narine | 4.0 | 0 | 16 | 2 | 0 | 0 |
| Sohail Tanvir | 2.0 | 0 | 4 | 1 | 0 | 0 |
| Mohammad Irfan Jr | 1.0 | 0 | 11 | 0 | 0 | 1 |
| Bilawal Bhatti | 4.0 | 0 | 15 | 0 | 3 | 0 |
| Yasir Shah | 4.0 | 0 | 7 | 4 | 1 | 0 |
| Fakhar Zaman | 1.0 | 0 | 2 | 0 | 0 | 0 |
| Grant Elliott | 1.0 | 0 | 5 | 0 | 1 | 0 |
Match Notes
Lahore Qalandars Inning
Lahore Qalandars : 50 runs in 6.4 overs (40 balls), Extras 2
Innings Break : Lahore Qalandars – 59/10 in 10.2 overs
(Yasir Shah 0
Peshawar Zalmi Inning
Peshawar Zalmi : 50 runs in 12.5 overs (77 balls), Extras 4