HBL PSL 2017 – 8th Match: Lahore Qalandars vs Karachi Kings
Highlights
Photo Gallery
Match Report
HBL PSL 2017 – 8th Match: Lahore Qalandars vs Karachi Kings

(Qalandars 179 for 8 in 20 overs)
(Kings 172 for 8 in 20 overs)
SHARJAH February 16: Lahore Qalandars recorded a nail biting seven run win over the Karachi Kings' to earn two valuable points in a Sharjah humdinger that enthralled a packed stadium on a pleasant Thursday night.
Qalandars set a target of 180 on a batting friendly pitch came within a whisker of overhauling the target courtesy a 101-run third wicket partnership between captain Kumar Sangakkara (65) and Shoaib Malik (39) but lost their way in the dying stages of the game as Qalandars bowlers held their nerves amid the onslaught by the Kings batsmen.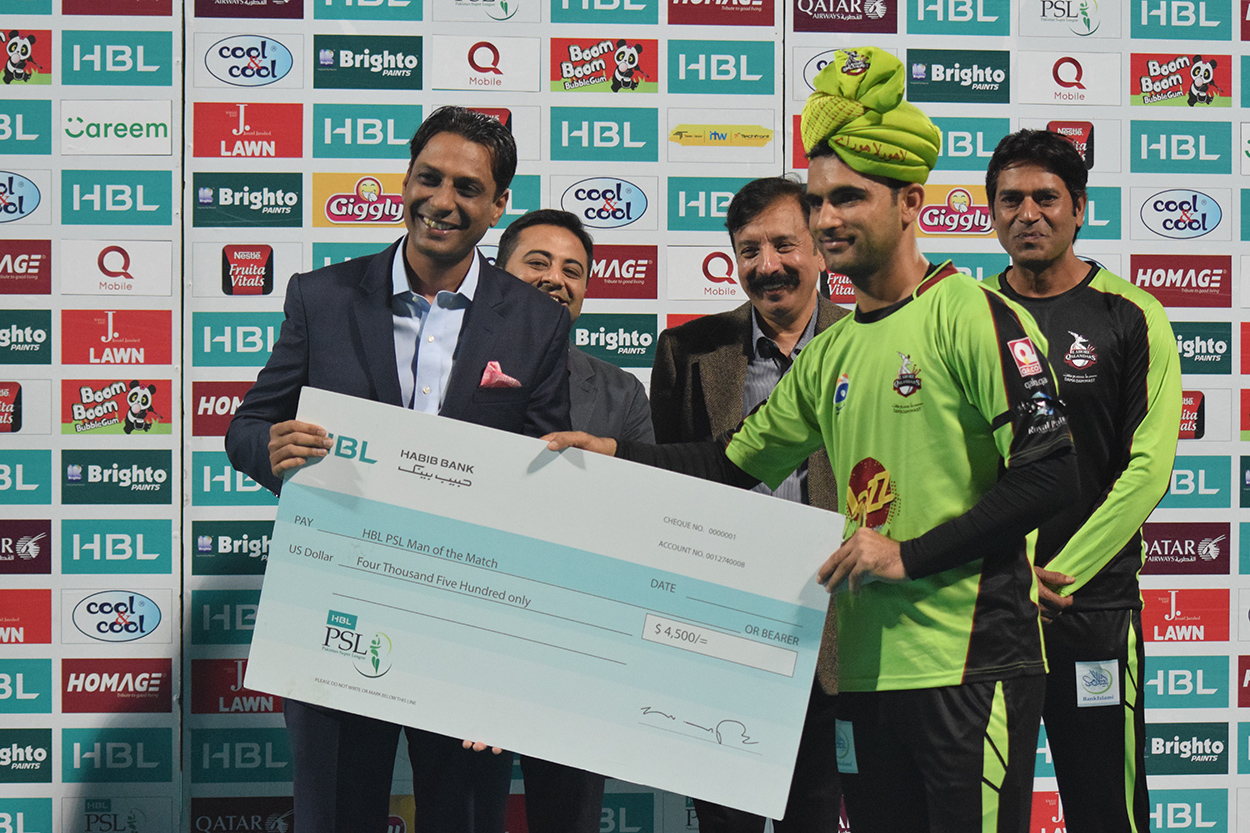 Sohail Tanvir dismissed Sangakkara in the 15th over before Malik fell to Bilawal Bhatti in the next over to derail the seemingly on track Kings chase.
Sohail Khan and Mohammad Amir hit a six apiece but failed to capitalize on their breezy starts as the asking rate mounted with every passing delivery.
Kings needed 18 runs off the last six balls but could manage only 10 against the gangly right-armer Mohammad Irfan.
Qalandars were asked to bat first after Kings captain Kumar Sangakkara won the toss, the Qalandars outfit were led to their imposing total by a scintillating 36 ball 56 by left-handed batsman Fakhar Zaman who hit three sixes and five fours after arriving at the batting crease in the second over of the match when Qalandars lost their captain Brendon McCullum for a duck.
Zaman added 45 with opener Jason Roy who scored 26 off only 16 balls before he was flummoxed by a slower one from pacer Sohail Khan.
Mohammad Rizwan (29) and Umar Akmal (25) played useful hands as the Qalandars made most of the fireworks provided by the talented Zaman who has been one of the most prolific run getters in Pakistan's recent domestic history.
Qalandars looked set for a 200 run score after crossing the 100 mark in the 11th over but a spate of wickets and tight bowling by the Kings' restricted them to 179, Mohammad Amir, Sohail and Usama Mir took two wickets each.
Zaman was named man-of-the-match.
Captain of Karachi Kings Kumar Sangakkara press conference
Fakhar Zaman of Lahore Qalandars press conference
Scorecard
8th Match: Lahore Qalandars vs Karachi Kings | Lahore Qalandars won by 7 runs
Match Details
| | | | |
| --- | --- | --- | --- |
| Toss | Karachi Kings, who chose to field | Tournament | HBL Pakistan Super League 2017 |
| Umpires | Aleem Dar (Pakistan) and Richard Illingworth (England) | Match Date | 16 Feb 2017 |
| Match Referee | Mohammad Anees (Pakistan) | Ground | Sharjah Cricket Stadium, Sharjah |
| TV Umpire | Ahsan Raza (Pakistan) | | |
| Player of Match | Fakhar Zaman (Lahore Qalandars) | | |
Lahore Qalandars Innings

R
M
B
4s
6s
1

Jason Roy

b Sohail Khan
26
0
16
2
1
2

Brendon McCullum *

b Imad Wasim
0
0
2
0
0
3

Fakhar Zaman

c Usman Khan Shinwari b Usama Mir
56
0
36
5
3
4

Umar Akmal

c Ravi Bopara b Usama Mir
25
0
16
3
1
5

Mohammad Rizwan †

lbw Sohail Khan
29
0
22
3
0
6

Grant Elliott

c Kumar Sangakkara b Mohammad Aamer
17
0
18
1
0
7

Sunil Narine

c Ravi Bopara b Mohammad Aamer
13
0
6
1
1
8

Sohail Tanvir

not out
3
0
3
0
0
9

Mohammad Irfan Jr

run out Mohammad Aamer
1
0
1
0
0
10

Bilawal Bhatti

Did not bat
11

Yasir Shah

Did not bat
Extra
lb 1, w 8
9
Total
8 wickets; 20.0 overs;
179
8.95 runs per over
Fall of wickets
1-12 ( Brendon McCullum, 1.3 ) ;
2-57 ( Jason Roy, 5.2 ) ;
3-104 ( Umar Akmal, 10.4 ) ;
4-119 ( Fakhar Zaman, 12.3 ) ;
5-158 ( Mohammad Rizwan, 17.5 ) ;
6-175 ( Grant Elliott, 19.1 ) ;
7-176 ( Sunil Narine, 19.3 ) ;
8-179 ( Mohammad Irfan Jr, 20.0 )
| Bowling | Overs | Maidens | Runs | Wickets | Wides | No balls |
| --- | --- | --- | --- | --- | --- | --- |
| Mohammad Aamer | 4.0 | 0 | 30 | 2 | 0 | 0 |
| Imad Wasim | 2.0 | 0 | 22 | 1 | 0 | 0 |
| Sohail Khan | 4.0 | 0 | 37 | 2 | 1 | 0 |
| Usman Khan Shinwari | 4.0 | 0 | 35 | 0 | 3 | 0 |
| Usama Mir | 4.0 | 0 | 35 | 2 | 0 | 0 |
| Ravi Bopara | 2.0 | 0 | 19 | 0 | 0 | 0 |
Karachi Kings Innings

R
M
B
4s
6s
1

Babar Azam

c Bilawal Bhatti b Mohammad Irfan Jr
9
0
10
1
0
2

Chris Gayle

c Umar Akmal b Sunil Narine
5
0
7
1
0
3

Kumar Sangakkara * †

b Sohail Tanvir
65
0
45
8
1
4

Shoaib Malik

c Sohail Tanvir b Bilawal Bhatti
39
0
30
0
2
5

Kieron Pollard

b Sunil Narine
8
0
6
1
0
6

Ravi Bopara

c Bilawal Bhatti b Sohail Tanvir
5
0
9
0
0
7

Imad Wasim

run out Mohammad Rizwan
6
0
5
1
0
8

Sohail Khan

b Mohammad Irfan Jr
10
0
5
0
1
9

Mohammad Aamer

not out
11
0
4
1
1
10

Usama Mir

not out
4
0
1
1
0
11

Usman Khan Shinwari

Did not bat
Extra
lb 2, w 6, nb 2
10
Total
8 wickets; 20.0 overs;
172
8.6 runs per over
Fall of wickets
1-7 ( Chris Gayle, 1.3 ) ;
2-21 ( Babar Azam, 4.0 ) ;
3-122 ( Kumar Sangakkara, 14.4 ) ;
4-125 ( Shoaib Malik, 15.2 ) ;
5-137 ( Kieron Pollard, 16.4 ) ;
6-147 ( Imad Wasim, 18.1 ) ;
7-156 ( Ravi Bopara, 18.5 ) ;
8-168 ( Sohail Khan, 19.5 ) ;
| Bowling | Overs | Maidens | Runs | Wickets | Wides | No balls |
| --- | --- | --- | --- | --- | --- | --- |
| Sohail Tanvir | 4.0 | 0 | 30 | 2 | 3 | 0 |
| Sunil Narine | 4.0 | 0 | 31 | 2 | 1 | 0 |
| Mohammad Irfan Jr | 4.0 | 0 | 35 | 2 | 0 | 1 |
| Bilawal Bhatti | 4.0 | 1 | 34 | 1 | 2 | 1 |
| Yasir Shah | 2.0 | 0 | 18 | 0 | 0 | 0 |
| Grant Elliott | 2.0 | 0 | 22 | 0 | 0 | 0 |
Match Notes
Lahore Qalandars Inning
Lahore Qalandars : 50 runs in 4.4 overs (28 balls), Extras 0
2nd Wicket : 50 runs in 19 balls
(Fakhar Zaman 7
, Jason Roy 31
, Ex 0)
Lahore Qalandars : 100 runs in 10.1 overs (61 balls), Extras 6
Fakhar Zaman : 50 off 33 balls
(
5 x 4 2 x 6 )
Lahore Qalandars : 150 runs in 15.5 overs (95 balls), Extras 7
Innings Break : Lahore Qalandars – 179/8 in 20.0 overs
(Sohail Tanvir 3
Innings Break : Lahore Qalandars – 179/8 in 20.0 overs
(Sohail Tanvir 3
Karachi Kings Inning
Karachi Kings : 50 runs in 6.5 overs (41 balls), Extras 3
3rd Wicket : 50 runs in 34 balls
(Shoaib Malik 16
, Kumar Sangakkara 28
, Ex 2)
Karachi Kings : 100 runs in 12.0 overs (72 balls), Extras 3
Kumar Sangakkara : 50 off 34 balls
(
7 x 4 )
3rd Wicket : 100 runs in 58 balls
(Shoaib Malik 36
, Kumar Sangakkara 58
, Ex 2)
Karachi Kings : 150 runs in 18.2 overs (110 balls), Extras 10