HBL PSL 2017 – 9th Match: Peshawar Zalmi vs Quetta Gladiators
Highlights
Photo Gallery
Match Report
HBL PSL 2017 – 9th Match: Peshawar Zalmi vs Quetta Gladiators

Gladiators vs Zalmi
(Zalmi 117 for 3, 16 overs)
SHARJAH February 17: Intermittent rain spells overshadowed the action on the pitch as the ninth match of the HBL PSL 2017 season was abandoned with only 17 overs bowled in Zalmi's innings after the Peshawar team was asked to bat first by Gladiators captain Sarfraz Ahmed.
The match started in gloomy, overcast conditions in front of a packed Sharjah stadium with big support for two teams with strong fan base in the region.
Zalmi openers Tamim Iqbal and Mohammad Hafeez started steadily but a 46 minute rain interruption triggered a collapse as three wickets fell for the addition of a single run, Zalmi lost Hafeez for 16, Kamran Akmal for a duck and Eoin Morgan for 1, slipping from 41 for one to 41 for three in a space of eight deliveries.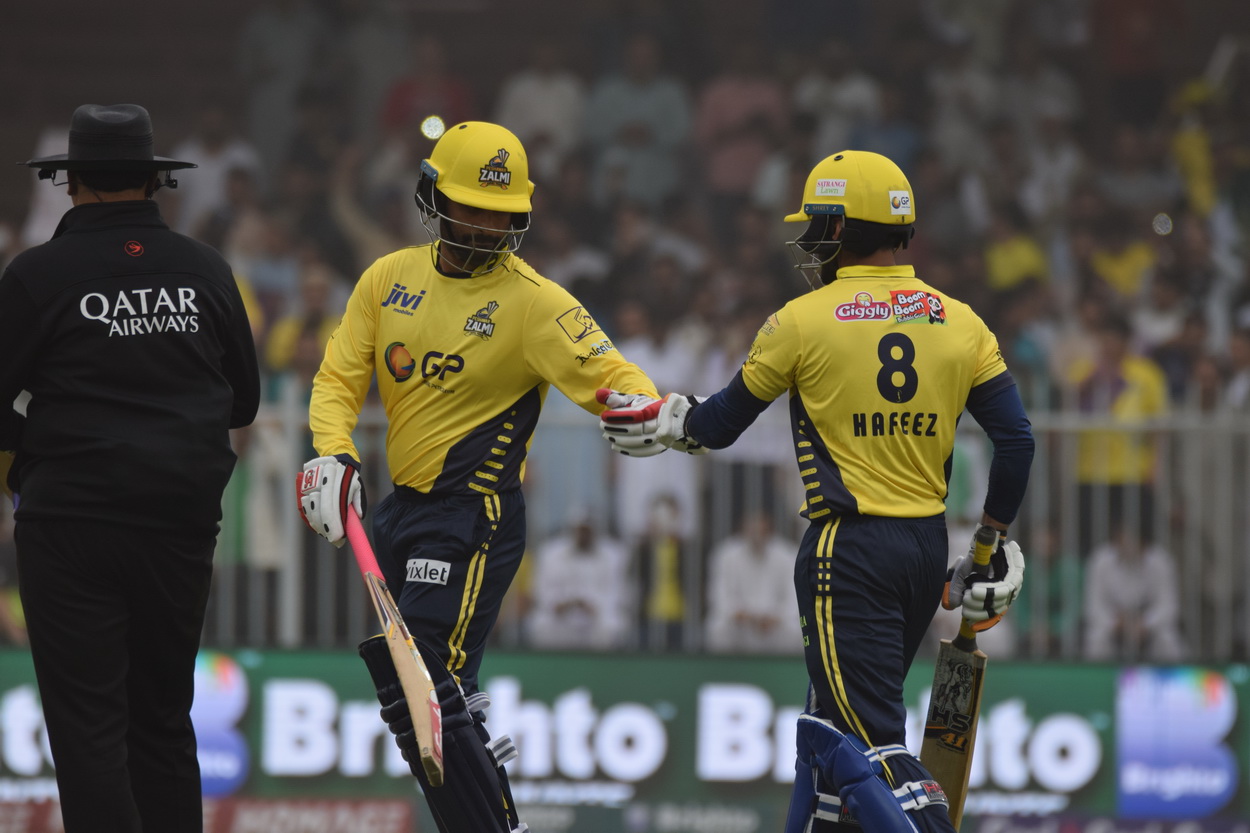 Tamim who was making his first appearance of the season rescued his team through a 75 run fourth-wicket partnership with Sohaib Maqsood who scored 30 runs off 24 balls. The Bangladeshi opener reached his half-century and ended the innings with 62 off 46 balls an innings that included four sixes and as many fours.
Zalmi managed 117 runs for the loss of three wickets in their 17 overs.
The Gladiators' chase though never started as intermittent rain dampened proceedings before the match was eventually called-off when the revised chase of 55 runs in six overs failed to materialize with a heavy downpour before the first ball could be delivered.
Both teams shared the two points (one apiece).
Scorecard
9th Match: Peshawar Zalmi vs Quetta Gladiators | No result
Match Details
| | | | |
| --- | --- | --- | --- |
| Toss | Quetta Gladiators, who chose to field | Tournament | HBL Pakistan Super League 2017 |
| Umpires | Ahsan Raza (Pakistan) and Asif Yaqoob | Match Date | 17 Feb 2017 |
| Match Referee | Mohammad Anees (Pakistan) | Ground | Sharjah Cricket Stadium, Sharjah |
| TV Umpire | Rashid Riaz (Pakistan) | | |
| Player of Match | | | |
Peshawar Zalmi Innings

R
M
B
4s
6s
1

Tamim Iqbal

not out
62
0
46
4
4
2

Mohammad Hafeez

c Hassan Khan b Mahmudullah
16
0
19
2
0
3

Kamran Akmal †

c Asad Shafiq b Hassan Khan
0
0
3
0
0
4

Eoin Morgan

c Asad Shafiq b Rilee Rossouw
1
0
4
0
0
5

Sohaib Maqsood

not out
30
0
24
2
1
6

Shahid Afridi

Did not bat
7

Hasan Ali

Did not bat
8

Junaid Khan

Did not bat
9

Darren Sammy *

Did not bat
10

Shakib Al Hasan

Did not bat
11

Wahab Riaz

Did not bat
Extra
lb 2, w 6
8
Total
3 wickets; 16.0 overs;
117
7.31 runs per over
Fall of wickets
1-41 ( Mohammad Hafeez, 5.5 ) ;
2-41 ( Kamran Akmal, 6.3 ) ;
3-42 ( Eoin Morgan, 7.1 ) ;
| Bowling | Overs | Maidens | Runs | Wickets | Wides | No balls |
| --- | --- | --- | --- | --- | --- | --- |
| Zulfiqar Babar | 4.0 | 0 | 37 | 0 | 1 | 0 |
| Mohammad Nawaz | 3.0 | 0 | 18 | 0 | 0 | 0 |
| Anwar Ali | 2.0 | 0 | 22 | 0 | 0 | 0 |
| Mahmudullah | 3.0 | 0 | 18 | 1 | 0 | 0 |
| Hassan Khan | 2.0 | 0 | 8 | 1 | 1 | 0 |
| Rilee Rossouw | 1.0 | 0 | 8 | 1 | 0 | 0 |
| Thisara Perera | 1.0 | 0 | 4 | 0 | 0 | 0 |
Quetta Gladiators Innings

R
M
B
4s
6s
1

Ahmed Shehzad

not out
0
0
0
0
0
2

Kevin Pietersen

not out
0
0
0
0
0
3

Sarfraz Ahmed * †

Did not bat
4

Zulfiqar Babar

Did not bat
5

Mahmudullah

Did not bat
6

Hassan Khan

Did not bat
7

Asad Shafiq

Did not bat
8

Mohammad Nawaz

Did not bat
9

Anwar Ali

Did not bat
10

Thisara Perera

Did not bat
11

Rilee Rossouw

Did not bat
Extra
0
Total
0 wickets; 0.0 overs;
0
0 runs per over
Fall of wickets
| Bowling | Overs | Maidens | Runs | Wickets | Wides | No balls |
| --- | --- | --- | --- | --- | --- | --- |
Match Notes
Peshawar Zalmi Inning
Match stopped due to rain : Peshawar Zalmi – 28/0 in 3.4 overs
(Mohammad Hafeez 6
, Tamim Iqbal 17)
Peshawar Zalmi : 50 runs in 8.0 overs (48 balls), Extras 5
Match stopped due to rain : Peshawar Zalmi – 72/3 in 12.0 overs
(Tamim Iqbal 32
, Sohaib Maqsood 16)
Match stopped due to rain : Peshawar Zalmi – 72/3 in 12.1 overs
(Tamim Iqbal 32
, Sohaib Maqsood 16)
4th Wicket : 50 runs in 32 balls
(Tamim Iqbal 18
, Sohaib Maqsood 17
, Ex 2)
Peshawar Zalmi : 100 runs in 14.3 overs (87 balls), Extras 8
Tamim Iqbal : 50 off 41 balls
(
4 x 4 3 x 6 )
Innings Break : Peshawar Zalmi – 117/3 in 16.0 overs
(Tamim Iqbal 62
, Sohaib Maqsood 30)
Match stopped due to rain : Peshawar Zalmi – 117/3 in 16.0 overs
(Tamim Iqbal 62
, Sohaib Maqsood 30)